Features
Open House 2024: Grand Design's New Models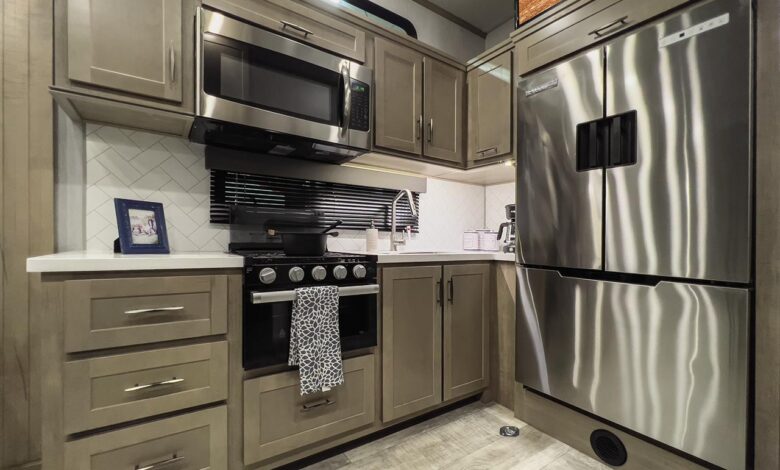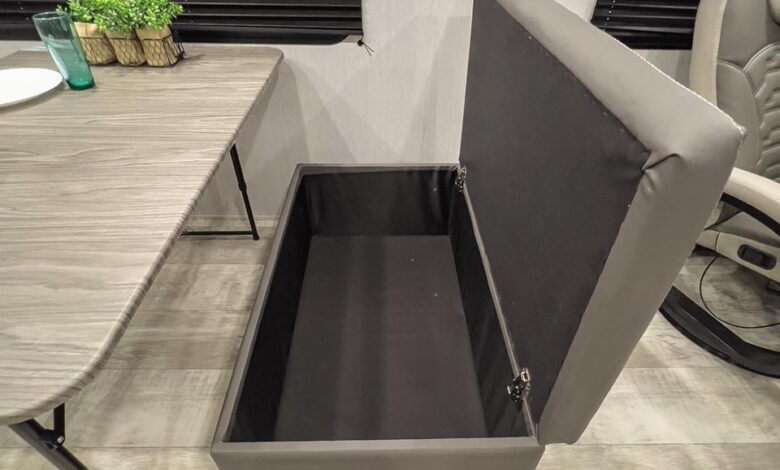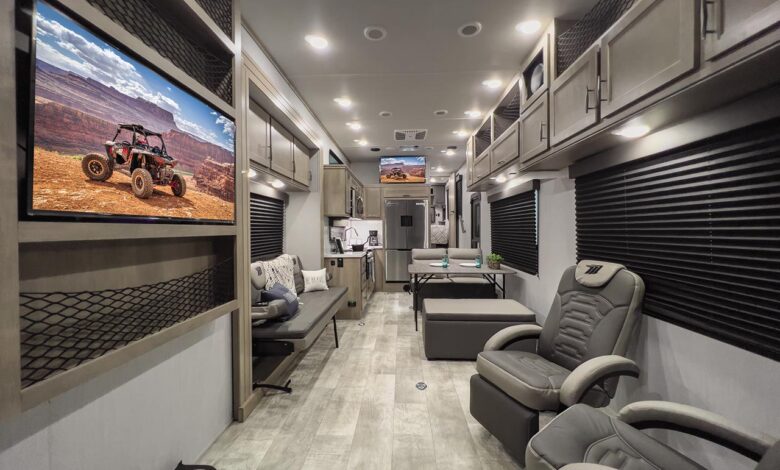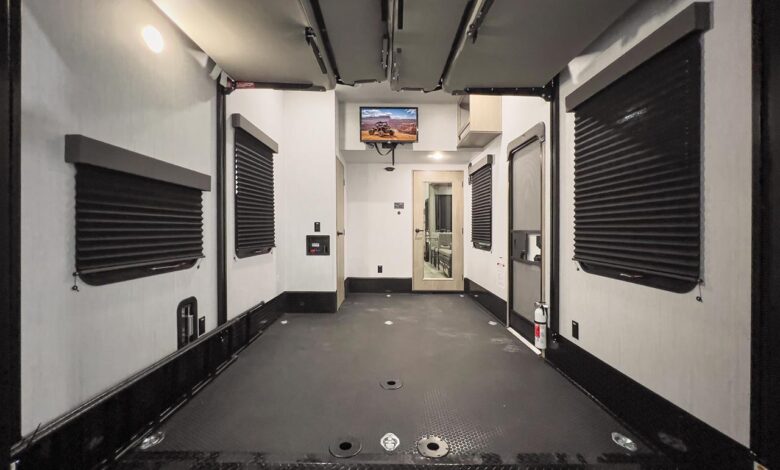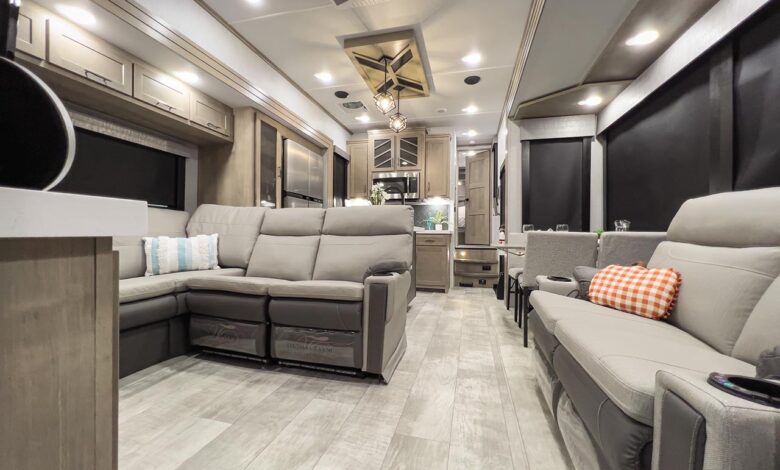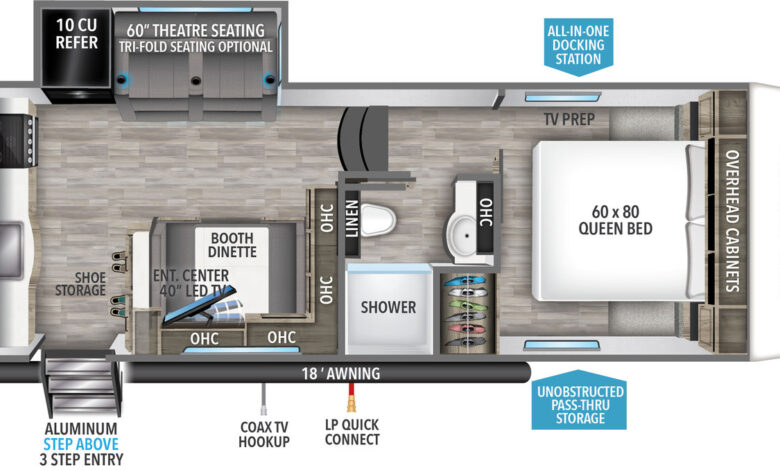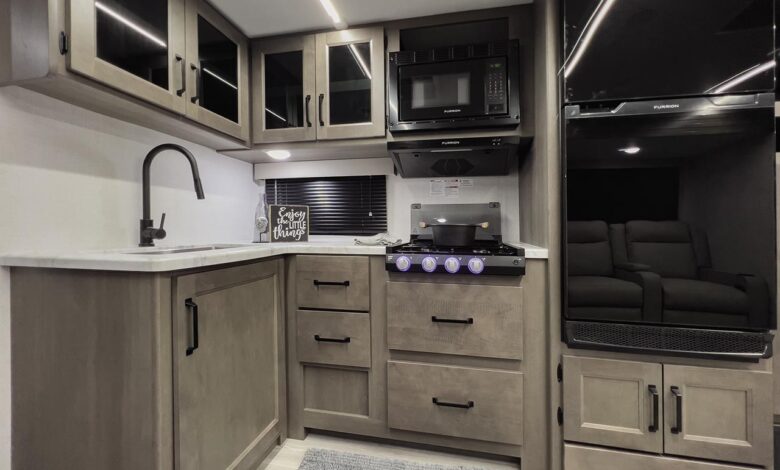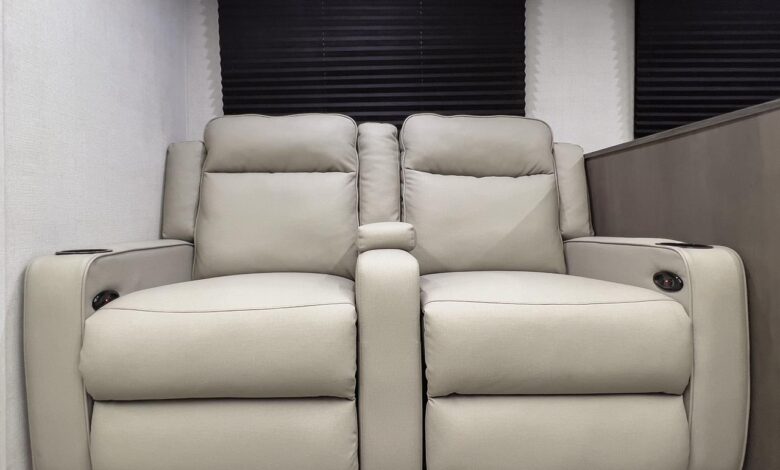 Grand Design RV
"We are excited to debut the latest enhancements and additions for all of our brands at this year's Open House," says Peter Kinden, general manager of Grand Design RV (GDRV). "From new floorplans, exclusive features along with a whole new look for some of the brands. We'll also be unveiling products in new market segments to complement our current lineup. We are certain all of the new and /or improved enhancements and introductions will be a big hit with both our dealers and our customers."
Solitude 
A newly named, price aggressive segment is coming to the Solitude fifth wheel lineup that will offer a feature-rich story. The new brand is introducing two layouts at Open House. The purpose behind the new brand is to offer the luxury fifth wheel segment and GDRV owners a price-conscious, feature-heavy option that goes hand-in-hand with Solitude.
The current Solitude lineup is also introducing two new models this fall, starting with the 417KB that features a spacious front bath and flush floor rear kitchen. Solitude is also introducing the new and anticipated 370DV.
"The new Solitude 370DV, a spin on our No. 1-selling 310GK, includes the crowd-favorite dual vanity bathroom of the 390RK," says Tommy Hall, product manager for Solitude.
A slew of features will be new to the brand. Along with an upgraded, lithium-focused solar package, Solitude will offer 8,000-pound ABS brake axles to highlight the fall changes. On the interior, owners will have an exclusive residential "Smart Sink" kitchen sink with a built-in cutting board, strainer, glass and waterfall rinser, sprayer and knob-controlled drain, plus an APEX furniture redesigned booth dinette as a new option for all floorplans. A drastically expanded front gooseneck and "hidden storage" give RVers more space for valuables.
In addition to new features, Solitude owners can opt for a highly anticipated and innovative work desk/dinette hybrid setup, and TravlFi-ready internet.
Reflection 
New to the Reflection brand is the "100 Series," a more price-conscious fifth wheel with MSRPs starting around $50,000. The brand's sister 150 Series has a price tag starting around $63,000.
"This new subsegment will help the brand hit a growing price point in the fifth wheel market. It will also appeal to the increasing number of customers looking to purchase shorter floorplans," says Tony Lizzi, product manager for Reflection.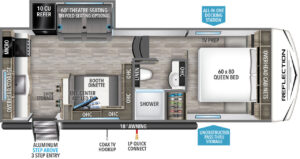 Models in the 100 Series will range in length from 26-feet-11-inches to 32-feet-3-inches. The lineup will debut three floorplans, with the 22RK as the shortest, followed by the 27BH bunkhouse layout and 28RL double-slide that measures 30-feet-11-inches.
In addition to the new 100 Series, Reflection will debut its 362TBS fifth wheel as part of their standard Reflection fifth wheel lineup. The model will feature two bedrooms that will "appeal to customers looking to sleep adults and/or grandchildren that may be staying with them for limited or extended periods of time," Lizzi says.
Coming to standard Reflection fifth wheels are flush floor galley slides and an upgraded "Chef Collection" oven from Furrion to provide a more comfortable cooking environment. Interior flush mount lighting will be upgraded and available on all standard Reflection fifth wheels and travel trailers.
All Reflection travel trailers and fifth wheels (excluding the 100 Series) will offer the following new features for 2024:
12-volt Distribution Hub
Pet-friendly RVs
Dedicated kitchen trash can storage and silverware drawer
Water shutoff valves for shower, toilet and all sinks
"Easy Entry" RVs
New 2024 options for the Reflection brand include the TravlFi Wi-Fi system for all travel trailers, 150 Series and standard fifth wheels.
"This is an onboard Wi-Fi solution that allows customers to choose between many flexible data plans while also not limiting themselves to one single provider," Lizzi says.
Imagine 
"The entire Imagine team has been diligently working on the pursuit of fine-tuning our core floorplans with design and feature enhancements," says Eric Landis, product manager for Imagine. "We are also very eager to highlight new floorplan concepts we believe will be essential for our future success and growth within the travel trailer market."
The brand's 2024 focus is on elevating current floorplans and introducing concepts to align with its three segments: Imagine, XLS and AIM.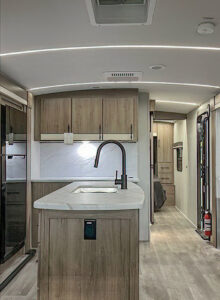 "Imagine has positioned itself within the travel trailer market as a leader in innovation and refinement. Our dealer partners and retail customers will be elated to know we are seizing the opportunity and elevating our standard features," Landis says.
New for 2024 Open House, Imagine debuts include (but are not limited to):
ABS two-inch accessory hitch receiver
Dedicated sewer hose carrier
A 40-amp charge controller for advanced solar capabilities
Skid- and scuff-resistant tuff-ply, pass-through flooring
New pass-through LED lighting controlled by pressure switches mounted on baggage doors
Dual LP tank monitors
New dimmable interior LED batten strip lighting
Wall-mounted motion sensor night lights
Pop-up wireless charger with two USB ports
All features listed apply for AIM configurations except for ABS and 40-amp charge controller
Transcend
While Transcend's travel trailers won't debut any new segments or floorplans at Open House, a host of new standard features are planned for 2024.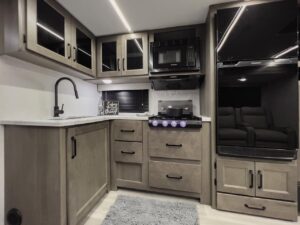 On all models, new amenities include:
LED strip lighting
Lino in slide box
Black glass entrance door
Black glass refrigerator doors
New exterior metal
Power theater seats
EZ Glide sofas
New interior design colors
Black fixtures and hardware
The brand will also offer power recliners as an option for MY24.
Momentum
"For Open House, we have refined many of the existing features Momentum has offered over the years. New models are also being introduced within our entry-level price points to give our customers a wider product offering," says Chase Booth, product manager for Momentum.
Three new floorplans will be introduced in the G-Class fifth wheel segment for 2024 – the 325G, 355G and 415G. The first two will target the Open Box market, while the 415G offers an enclosed 14-foot garage and incredible amount of living and kitchen space at the G-Class price point.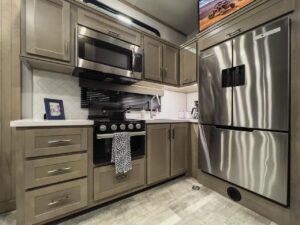 The brands M-Class and TH (toy hauler) series will feature many new standards that will improve the camping experience. These include:
MORryde's Safe-T-Handle for safe and sturdy RV entry
Pet-friendly amenities with fold-up dishes, LCI's Screen Defender doors and Mo Secure for pet leashes
LCI's Basecamp for improved slide and auto leveling functionality
Residential soft-close cabinet doors and drawers
Exclusive residential sink with many gadgets, including a glass rinse
Sliding dresser tops for improved functionality of existing hidden storage
Enhance basement storage utilizing a generator-drop placement
Diffused wall lights in garage for improved visibility
Bargeman cord hanger
All M-Class and TH owners can opt for two new factory installed features: A scalable lithium storage solution and MORryde Independent Suspension.
The brands G-Class travel trailers will spotlight new options, such as an increased generator size of 4.5 kilowatts in the 21G and 23G, and the more robust 5.5-kilowatt option in the 25G and larger models. Storage has also been improved in the G-Class Travel Trailer lineup with functional wall organization in forward exterior compartments.