Features
Open House 2024: Winnebago's New Models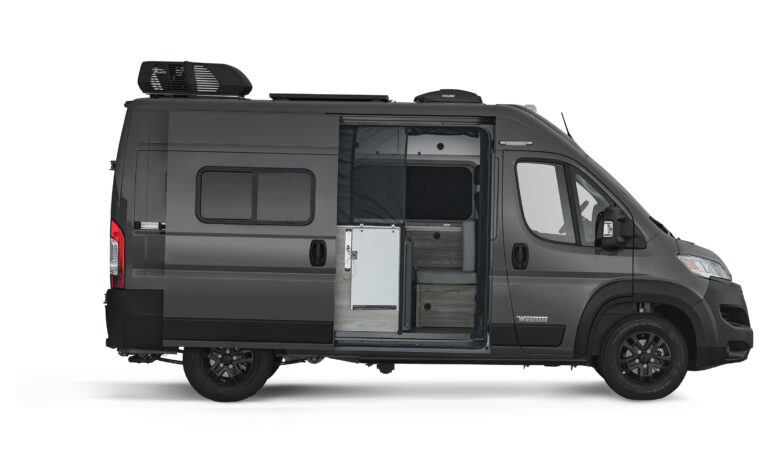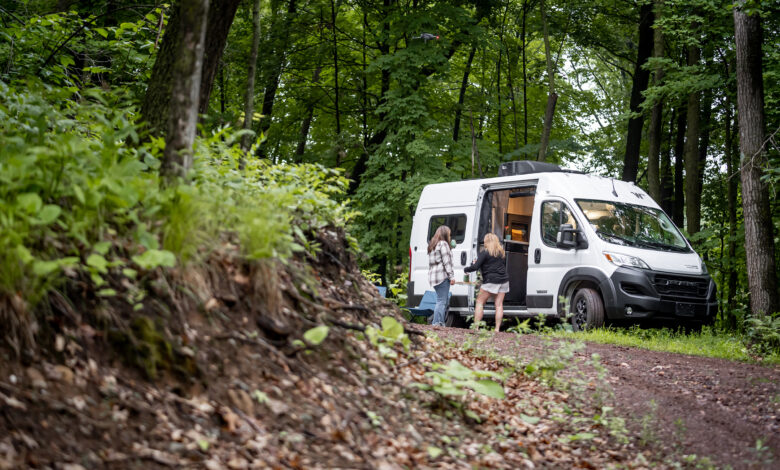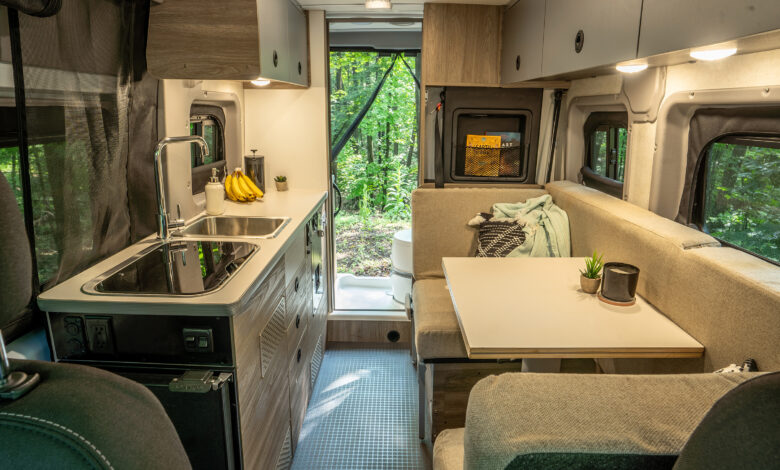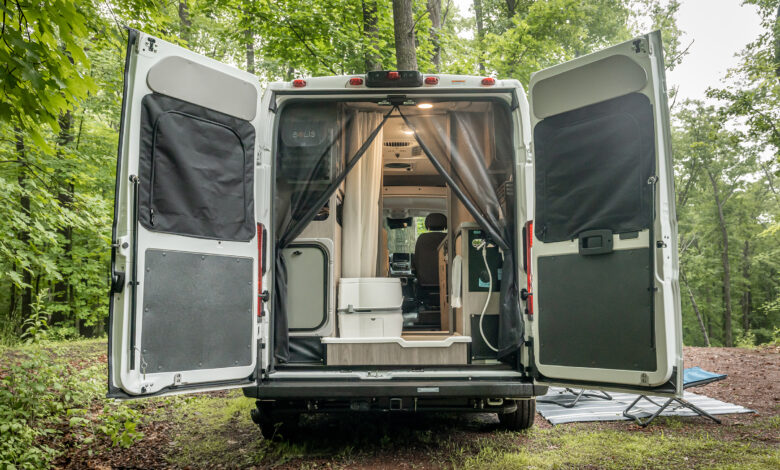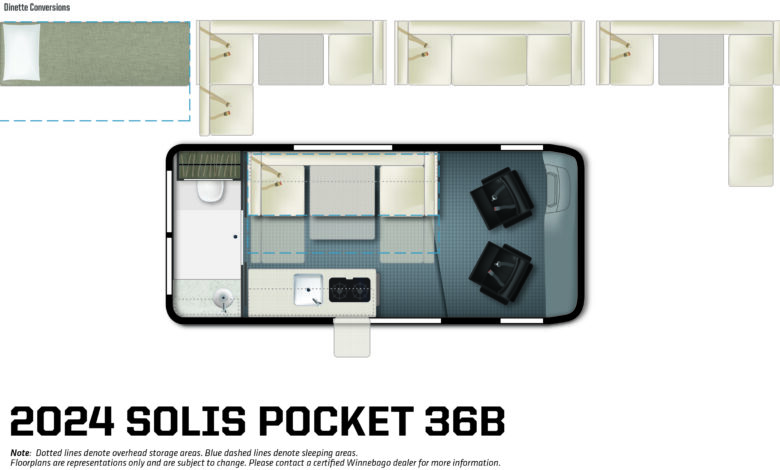 Winnebago
Micro Minnie/Minnie/Voyage
New floorplans are the name of the game for Winnebago's 2024 offerings – starting with the Micro Minnie 1821FB.
"This year, our focus is really going to be focusing back on our core product and revitalizing and new product vitality within our core segment," says Adam Christoffersen, senior general manager, Winnebago Towables.
The jumping off point for the 1821FB, the Micro Minnie 1720FB is a small, compact nonslide, full-feature, dual-axle travel trailer that debuted last year at Open House and went to retail market by the Tampa SuperShow in January, Christoffersen says.
"We had a really great Tampa SuperShow with it. We've continued to have a really successful retail spring and early summer season with that floorplan," he says.
Some feedback they did receive is that consumers love the floorplan but want it to be a bit bigger – so Winnebago added a foot in length and a slide, a four-person dinette or optional easy-glide sleeper sofa for the 1821FB. The 1821FB is still dual axle, Christoffersen says, 21 feet overall length and around 4,000 pounds dry. Improvements were also made to the bathroom with a larger, 24-by-36 shower and a flip-down bathroom sink into the shower.
For the Minnie travel trailer, there are new floorplans on the horizon as well, Christoffersen says. A 2326RB for a rear bath and a 2326BH for bunkhouse.
"We've got a lot of floorplans in that Minnie space that are 28-, 29-, 30-, 32-foot length. So we really wanted to appeal to our West Coast dealers and West Coast end consumers with an 8-wide laminated trailer that was 26 feet or under," he says. "Hitting that consumer who would be, potentially, traveling through the mountains or the hills of the Pacific Northwest. And so we wanted to be weight conscious and size conscious for some of those tighter campgrounds or state parks out there."
Then moving up in size again, Winnebago has included a new floorplan for its full-feature travel trailer – Voyage.
"It's almost fifth wheel-type amenities in a travel trailer with our drop frame storage. It has taller interior heights and larger holding tanks and bigger appliances – more storage for consumers who are maybe going for longer periods of a time or putting it on a seasonal site or [are] snowbirds," Christoffersen says.
The new 3538RK includes a triple slide rear kitchen – so now Voyage goes from a 27-foot single slide up to a 38-foot triple slide, he says. The kitchen area opens to the dining and prep area, and the dual opposing slides in the living room area provide ample seating and great viewing of the TV. The slide that is on the camp side, Christoffersen says, will have a standard desk and dedicated workstation for that consumer who can live, work and play in the unit.
"They can be on the go and then still have a dedicated workspace for them to be able to get their work done," he says, "or maybe it's a person with a craft or a sewing station."
Another new Voyage floorplan will be the 3235FK. Bouncing off the 2832FK debuted at the Tampa SuperShow, which has a single slide and front kitchen and has been well received, the 3235FK provides a second slide and more room in the bedroom.
Since the Voyage is "for that consumer who's willing to pay for more and wants more," Christoffersen says, this floorplan offers an additional 3 feet in length and a second bedroom slide, providing an east to west bed and more walk-around space in the bedroom, plus additional wardrobe space.
And finally, there will be a new offering from Winnebago on display at Open House for 2024, but Christoffersen said at press time in early August, they needed to be a little hush-hush about further details.
"We'll be pretty disruptive in the conventional travel trailer space with a new product that we're going to be launching this fall," he says. He explains that the new offering will allow "dealers to offer a product and consumers a product to get into a Winnebago branded product earlier in their buying cycle.
"We are going to be entering a space that we have not played in before," he says. "We never were caught up in that whole hyperinflation, and so when we come into the space, we're going to be coming in with a brand-new brand to enter our portfolio at a point where materials have come back down so we can be competitive with the rest of the market."
Thankfully, Christoffersen says the retail cadence for Winnebago Towables has been strong this year.
"The average age of the new RV consumer right now is 35 and under. And thankfully with the power of the Winnebago brand and the brand recognition, we are getting a first chance in the buying process because the consumers are searching Winnebago. We feel like we have a higher quality standard and we have a lot of features out there that consumers are looking for.
"The new consumer is not like my dad or my grandpa and can fix things and take their tool bags out with them to their campgrounds," he continues. "They don't want downtime – they want to be able to use their trailer."
Christoffersen offers an optimistic outlook for 2024.
"We're really excited to continue to shape our current core products and continue to monitor pricing and features and continue to meet the consumers where they are and offer them products for what they need," he says. "And so, while we know there will be headwinds in the next year, we feel like we're positioned with manageable aged inventory and good dealer partners and a dealer network as well as a product team that has done some due diligence to have features and everything that we're looking for to meet the end consumer. So we have a lot of optimism as we go into this next year."
Solis
The Solis Pocket started out with one floorplan – the 36A. This year, Winnebago will introduce the 36B floorplan with a rear bathroom.
The mainline Solis is very family oriented, says Chris Bienert, product manager, camper vans. With the pop top and three-point seat belts, this unit has been geared toward family, while the Solis Pocket is more attune with a solo traveler or couples as an introduction to van life, he says. The 36A is an open floorplan that sacrifices a bathroom to achieve that space – but the 36B brings in the rear bathroom in a new way.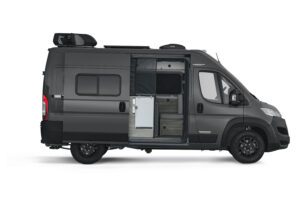 "We kind of clean sheeted that rear bathroom," Bienert says. "There's all these Bs out there that basically have cloned that rear bathroom. But we did a clean sheet design on it. So it's got some really unique features here in that bathroom."
Amelia Sheckler, product planner, camper vans, says they included a portable cassette toilet in the 36B and space for a mudroom in case consumers want to store equipment such as a snowboard or other clunky gear.
"By being able to just open those back doors, now you have a place to store that, and if you want to remove that toilet, you can then have all of that space opened up to really use as a mudroom," she says. "So that's one of the benefits to having that be completely removable."
The wardrobe is located on the driver's side of the coach and the LP tank is stored at the bottom of the wardrobe. Sheckler says they wanted to have easy access to that LP tank for any consumer who needs that, so one of their colleagues designed a "cradle" for it to sit in that assists in getting it in place and hooked up correctly.
On the passenger side is where the fixed sink is located, which is also handy because it gives someone who is older or who may have bad knees something to push up on.
"We had the exact same water tank from the A to the B, and when we brought in a focus group and walked through this, it was them who brought it to my attention that this would be really great from an accessibility standpoint," Sheckler says. "So [it has] lots of storage in there and lots of accessibility points."
She adds that the shower is dual mount, so it can be used inside or outside with the same shower head.
This 36B unit is a "very off-grid-capable coach," Biernet says. A new feature Winnebago is introducing is the EcoFlow Power Kit Pro energy system that combines a compact 5kWh lithium-ion house battery with a five-in-one management controller to manage inputs, including power from 190 W solar panels.
Another feature of the 36B is the seating and sleeping area that can be configured based on what the consumer needs. Sheckler says it can be set up full time as a twin for solo travelers or can be extended to a double-size bed with double-size sheets. The forward-facing seats all have three-point seat belts with the dinette table that extends across those seats. As she points out, children can be buckled into booster seats properly and use the dinette table to color. There's a sofa and a lounge configuration as well, and a dinette option that puts two sitting across from one another at the table.