Features
Open House 2024: Gulf Stream, Leisure Travel Vans, TAXA's New Models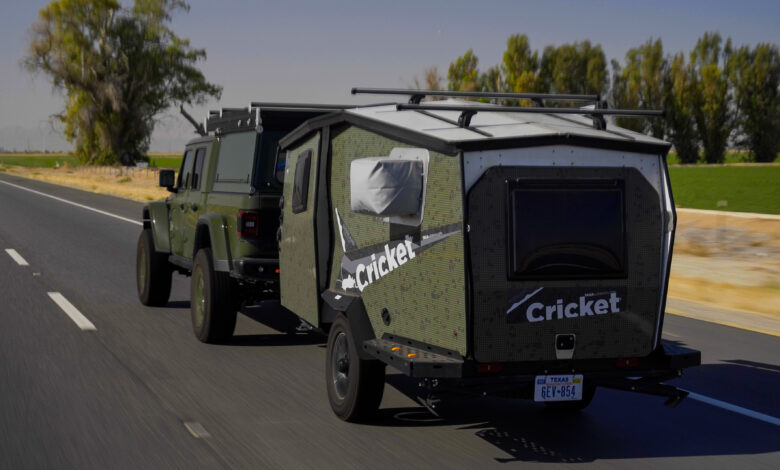 TAXA
TAXA Outdoors is launching new evolutions of the brand's current adventure vehicles, which include the Woolly Bear; the TigerMoth; the Cricket, its smallest unit; and the Mantis, its largest adventure vehicle.
Updates to the 2024 Mantis include two new floorplans, a new updated kitchen core and updated electronics including Bluetooth speakers and lights.
Increasing the comfortability of the living space, updates also include 3-inch cushions and a new floorplan at the rear, with the ability to transition between bed mode, table mode and lounge mode.
The Mantis will also feature the ability to include a second door for maximum indoor/outdoor living and the ability to create two awning spaces on either side of the unit.
New options for the 2024 Mantis include upgraded crate storage, a camp furniture set, bedding upgrades including an extra seat and mattress cushion and custom wraps.
For the 2024 Cricket, updates will feature an updated kitchen core, updated electronics including Bluetooth speakers and lights and one new floorplan. Similarly to the Mantis, the comfort level was increased in 2024 in the Cricket as well with more comfortable 3-inch cushions and the new floorplan at the rear with the flexibility to transition between bed mode, table mode and lounge mode.
Gulf Stream
For 2024, Gulf Stream will debut the new BT Cruiser 5220, the first new BT floorplan in six years.
The new floorplan provides an attractive alternative for RVers looking at smaller B Class motorhomes, but who know they want enhanced living space, better towing capacity, higher torque and more horsepower.
For the first time in BT Cruiser history, the 5220 is built exclusively on the Chevy HD3500 chassis, filling an often-requested niche and bridging the gap between B Class and C Class motorhomes. And, true to the 5220 tradition, the unit provides all of its advantages in size, road manners, carrying capacity and comfort at a price far lower.
The new family-friendly Supreme Series 285DBS will also debut at Open House. With its history dating back two generations, the main-line travel trailers from Gulf Stream Coach represent a history of refinements and updates to meet changing demands of camping families. The 285DBS offers a king bed master, a double-double bunk room, one-and-a-half baths, a huge pantry, an outside kitchen option and a dedicated office space.
Also for 2024, Gulf Stream Coach is adding two new Destination floorplans, the 33DBDB and 39RESE, with more living space, more storage room, and more residential features for families looking for destination-quality accommodations that fit tight family budgets.
Additionally, throughout all lines, dealers will see numerous updated interior decors and furnishings, exterior colors and paint schemes, and other enhancements that capture the latest trends in design and technology.
Particularly important to dealers capitalizing on the upgrade/upsize market is the re-introduction of the luxury laminated Envision line of travel trailers, with new decors and new features.
Gulf Stream Coach is also repositioning product lines to reduce prices and weights wherever possible.
The company says that because of popular demand, it will offer factory-installed, roof-mounted solar panels and solar power controllers as an option for products across all product lines.
Find Gulf Stream Coach in its familiar corner near the RV/MH Hall of Fame at Executive Parkway and Independence Court. The company says there will be plenty of easy in/out parking, a huge tent for shade, tables for relaxation, and hot meals throughout the day. Stadium lighting will be on-site outside the tent for those wanting to browse after hours.
Leisure Travel Vans
While Leisure Travel Vans says they won't display at Open House Week this year (and they typically don't), the company did recently shift to model year 2024 production, and is offering the following extras standard on all its new units.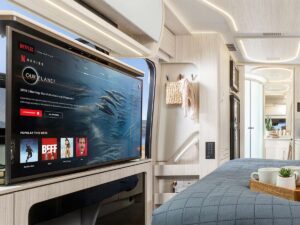 Those new standard features include a Truma Aventa Eco Air Conditioner; dual 12V, 100-amp-hour lithium batteries; an all-new pantry rack system (in all except the Wonder Front Twin Bed); smart TVs in all units; and an updated dinette table that incorporates a swiveling Lagun leg to provide greater versatility within in the coach. This update will allow owners to manipulate the table's position in various directions.
More information about new features in particular models is available on the company's blog at leisurevans.com/blog/whats-new-for-2024.