Features
Open House 2024: New Models From Aliner, Eclipse, Atia, Encore, ATC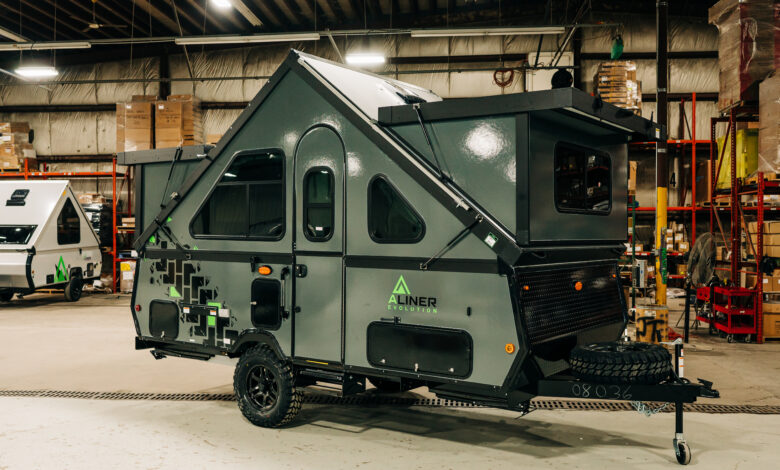 Aliner
Aliner said it is introducing a new floorplan for its twin bunk model and two new EV units.
The company's Ascape EV and Evolution EV will include the EcoFlow Power Hub, which provides 15 kilowatt-hours of stored energy. The EcoFlow Power Hub can be charged in multiple ways: It can receive up to 3,000 watts of solar input using the dual 400W, rigid panels on the camper roof; it can plug into shore power; or be powered by a generator. The EV models also come standard with a 5 kilowatt-hour lithium battery, an induction cooktop and on-demand water heater.
The EcoFlow Power Hub combines two MPPT solar charge controllers, one battery charger with MPPT, one
DC-DC step-down converter, and an inverter-charger. That's far fewer components and wiring required, the company said, and it makes for an all-in-one, minimal design, easy operation, organized cable management and a powerful charge system.
Once set up, plug and play with EcoFlow LFP batteries, solar panels and add-ons to fit a user's exact needs.
The 48V design of the EcoFlow Power Kits system means less heat and loss compared to traditional 12V systems. With a built-in BMS, the LFP batteries are protected from over-voltage and high current, all while balancing multiple battery cells in unison, translating into a safer build.
Customers that purchase an EV model have the option to purchase additional 5 kilowatt-hour lithium batteries up to a maximum of 15 kWh in total.
Also debuting at Open House is Aliner's Evolution 15 Twin Bunk Model floorplan. The new floorplan comes after much customer feedback and requests for more versatility in the unit's sleeping arrangement.
Eclipse

Eclipse RV will be showing off the new Elite series of its Attitude, Stellar and Iconic toyhaulers, the 26HKE, the 22LBE and the 2616GSW.
It will also introduce new models of its Milan Travel Trailer: the T16MBH; the T20BHS; the T22FBS; the T24 RKS and the T28BHS.
There are also new models of the company's overlanders, the Moxi by Attitude and Mojo by Stellar Overlanders, the 10RD and the 12RD.
New features from the company in '24 include 200W solar with a 1,500W inverter; a fifth wheel Enduro front cap; "exclusive" waterproof LED flood lights; aluminum wheels; and a generator and fuel stations.
Atia
Atia RV said it will display its first hard-body travel trailer that will be 100% solar powered at Open House. All the floorplans will be the same as the GU product line (at Atia, GU is short for "garage-able unit").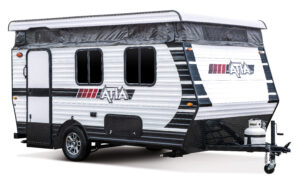 "We are super excited about the product line," says Nick Nicholas, founder, CEO and president of the independent RV company.
The company said this new model includes as standard features Bluetooth connectivity; a 12-volt, 3.3-cubic-foot refrigerator; two-burner cooktop with piezo igniter; 8,000-BTU air conditioner; 6-inch speakers; 6-gallon DSI water heater; and 20-gallon fresh, black and gray water tanks.
One major feature the company is introducing for 2024 is a fiberglass version. Any of the floorplans can be produced with gray fiberglass as an option, adding only 200 pounds, Nicholas says.
Atia RV says its GU line is the industry's only true garage-able travel trailer. This allows anyone with a standard 84-inch garage to store their unit, keeping it out of the elements and keep the owner from having to pay for storage or from violating any Home Owners Association's rules that may be in effect.
"We currently have five amazing floorplans ranging from 16 feet – 2,280 pounds – to 20 feet – 2,600 pounds – however, we are very excited about our new floorplan, which will weigh in at 1,852 pounds (or thereabouts)," Nicholas says.
"All our floorplans can be towed with any vehicle with a tow package. That means they can save thousands of dollars by not having to buy a new tow vehicle."
Encore
Encore will be introducing a new adventure trailer line at Open House that it says is not quite as off-road oriented as some it makes, yet will be small and easy to tow. The initial model that will be released at Open House is still in development and even its name has not been finalized. The company says to come see it in Elkhart to find out more.
The company is introducing an entirely new model for its Rōg series. It will be a 14RKB, which is slightly larger than its current 12RK – 27 inches longer and six inches taller. The interior living space is very similar, with 6-inch extra interior height and three inches more floor space. The rear overhead cabinets, front overhead cabinet, front cabinet and two entry doors all gain six inches of additional height creating easier egress to the trailer and more storage.
The exterior curbside of the trailer has a large door that opens vertically and houses two 1.7-cubic-foot, 12-volt refers and a large pullout pantry. The same side of the trailer also has a 26-inch griddle that mounts to the side of the trailer on a removable table. The rear of the trailer features a slideout rear kitchen that includes a two-burner stove with cast iron grates, stainless steel sink and a flip-up counter extension for additional prep space. The streetside rear of the trailer has a large wetbath that features a Thetford cassette toilet, sink with faucet and shower. Being slightly larger than the 12RK, the 12RKB features a standard 4,000-pound torsion axle with an option for the upgraded Timbren Axle-Less Suspension. Encore will also be releasing a new Rōg 16RB that includes a wetbath. If time allows we will also be introducing a 20-foot toy hauler designed to transport a full-size, four-door side-by-side.
The smaller Rōg models, including the 10MC, 12BH, 12RK, 12BH-SS and 12RK-SS, will have new options available including an OVS 270-degree awning and an Overland Package that includes the Timbren Axle-Less Suspension and a Max Coupler articulating hitch. These are three of the most requested features we've been asked to include in the smaller trailer lineup.
The Rōg 16RB will have an optional wetbath available, which the company says is a highly requested feature in this floorplan.
ATC
ATC has added upgrades to its Plā 700 line for the 2024 model year.
These include:
an industry-leading 10-year structural warranty, according to the company
a HappiJac bed and lithium battery now standard
upgraded component partners to align with ATC's quality standards
TV prep standard and option for a TV in the garage area of the 4023, 4319, and 4528 fifth wheel models
decor changes, including matte black faucets and Venato Sparkle countertops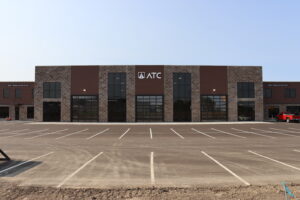 Also at Open House Week, the company will unveil a new series of models: the Plā 450. A step above the Plā 350, the Plā 450 Series will be debuting with two models that have full amenities with a wet bath. It will target the full-size SUV and compact half-ton truck market.
The company also just opened a brand-new plant in Nappanee, Indiana, and would like to invite all dealers who are in town for Open House Week to tour the new location: 5225 E. Market St. in Nappanee.