Features
Open House 2024: New Models From Heartland RV
Celebrating its 20th anniversary in 2024, Heartland RV is spotlighting new standard features across its brand family, including its new Trio air conditioning system with three dimensions of cool climate technology.
"After the success of our all-new, Heartland-exclusive air fryer oven in 2023, we're rolling out a new, larger air fryer oven for 2024," says Lesley Melvin, director of marketing. "Where the original measured 17 inches across, the 2024 model will be an expansive 22 inches wide, giving campers 30% more room to cook their favorite crispy, crunchy meals."
Across the board, Heartland is updating its interior décor to reflect modern styles, bringing back a wider range of colors and moving away from the neutrals and grays of the last decade.
"Wood tones for cabinets and trim will be richer and warmer, and we're adding more natural elements in the form of stone and organic textures. In fixtures, we're mixing metals in a sophisticated way, using a lot of gold and black to create drama and contrast. Overall, we're excited to bring refreshed design trends to our RV customers, offering them different options than what they've seen in the last several years," Melvin says.
Specifically, the company's Sundance Ultra-Lite travel trailer models will have an updated kitchen with solid surface countertops and a residential pull-down-style faucet for easier cleanup.
In 2024, Prowler will have totally redesigned interior décor and reimagined exterior graphics. In addition, new Prowler models will be made with Azdel composite sidewalls – a material that's lighter than wood and insulates better against noise, bad weather and extreme temperatures.
All-new models and big amenity updates are slated for other Heartland brands in 2024.
Corterra
Coming to Heartland RV in 2024 is the all-new Corterra 3.0 – a fifth wheel designed with long-term campers in mind.
"From the Latin 'cor' for heart and 'terra' for land, our new model embodies the essence of both humanity and nature. Its sleek, modern graphics reflect the best of minimalist design, focusing on both form and function in equal measure," says Melvin. "In line with our three core values, Corterra is safe, smart and simple."
For safety, the model includes new technology like Dexter Tow Assist with ABS and sway mitigation, MORryde 3000 suspension, Goodyear tires, solid steps and a Safe-T-Rail at the entrance door.
Corterra's smart features include the company's new Trio A/C system that cools more efficiently and quietly than ever before, while the SOL 380 solar package provides 380 watts of solar energy to supplement or replace traditional energy use. Inside, a Wi-Fi hotspot and a smart TV keep campers connected and entertained.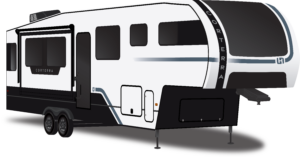 The model "keeps things simple" with features like auto-leveling and a new central wiring hub, coined the Vault XL. Auto-leveling lets campers set up their RV at the touch of a button. The Vault XL keeps wires and breakers organized with color-coded connections and protected from the elements in an easy-to-access location at the coach's front. Inside, a pull-out trash can with a hidden drawer keeps garbage out of sight, and details like toilet paper holders and towel hooks in the bathroom make the space more functional.
Heartland will release its new Corterra with "sleek, modern exteriors and clean, comfortable interior design," Melvin says. Details include:
Blackout windows
Tecnoform cabinetry with no-pulls
Dedicated coffee bar/wine bar/
ice maker
Integrated dog bowls and pet-friendly ductless floors
Tons of built-in storage, from shoe storage in the stairs to dinette and hidden storage behind the 55-inch smart TV
North Trail
Two new floorplans are coming to the North Trail ultra-lightweight travel trailer lineup – the 25FK with a front kitchen and the 27DBH unique bunkhouse model. The latter will include spacious double-over-double bunks and a sofa in the bunkhouse that transforms into another bed or dinette.
"It can sleep and seat up to eight people, and it tucks away when it's not in use, freeing up floor space. Plus, there's additional under-bunk storage on rollers that holds up to 150 pounds of cargo, so it stores out of sight during the day. This model also includes a fully private king bedroom, so campers get a generous number of beds with plenty of privacy built in, too," Melvin says.
Torque
In the toy hauler fifth wheel segment, Heartland is debuting its Torque TQ424 – the "first model we've released in several years with a 14-foot garage and triple axle," Melvin says.
The lineup will also spotlight the TQ418, a floorplan with an unobstructed 18-foot garage, an east/west bedroom and the most living space in its class; along with the TQ316, an open concept floorplan with no wall that separates the living space from the garage.
Bighorn
Celebrating its 20th anniversary alongside Heartland RV in 2024, Bighorn's newest floorplan will be the 3820RKFB, which has a rear kitchen, front bath and a dinette slide within an innovative layout that also provides the most viewing area of any Heartland fifth wheels.
Bighorn Traveler will add the 38DS, a double-suite model with two bathrooms, loft sleeping space and a U-shaped kitchen for easy meal prep and cooking.
Cyclone
The company's Cyclone toy hauler lineup will debut its new CY4008 that includes a 13-foot, 6-inch garage with the option to remove the secondary half bath.
"The CY4008 will have the most cross-conversational seating in our fifth wheel lineup, and will also include a pantry, dinette, table and chairs. Cyclone models in general will get a new, refreshed paint scheme with updated colors," Melvin says.