Features
Open House 2024: New Models From Thor Motor Coach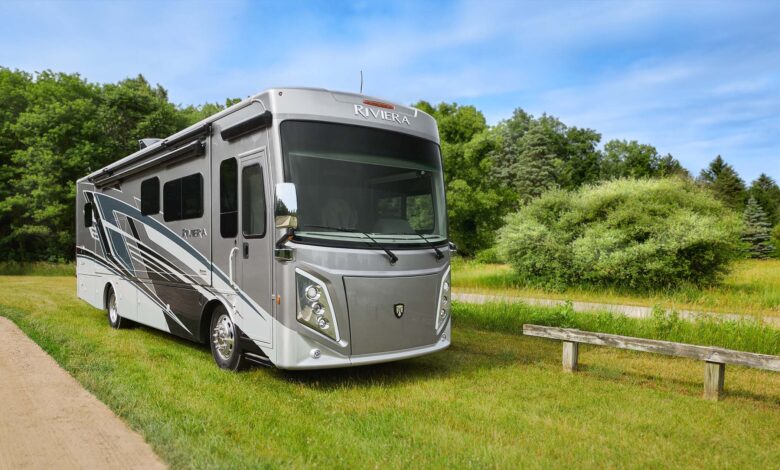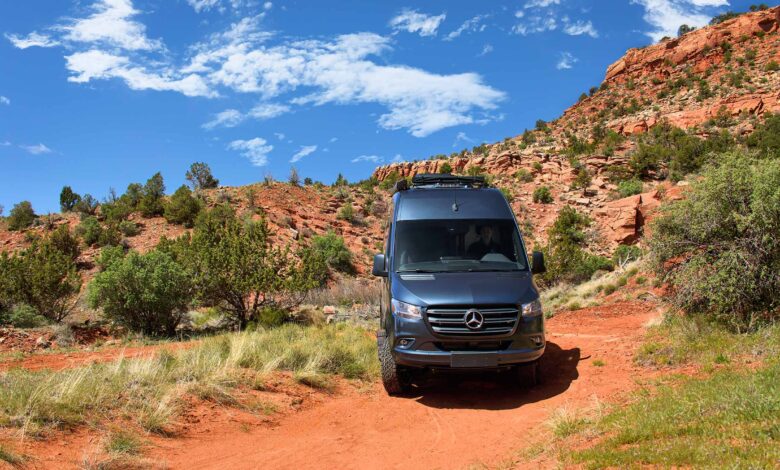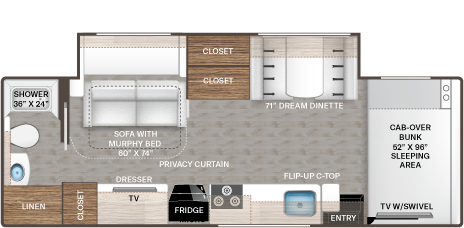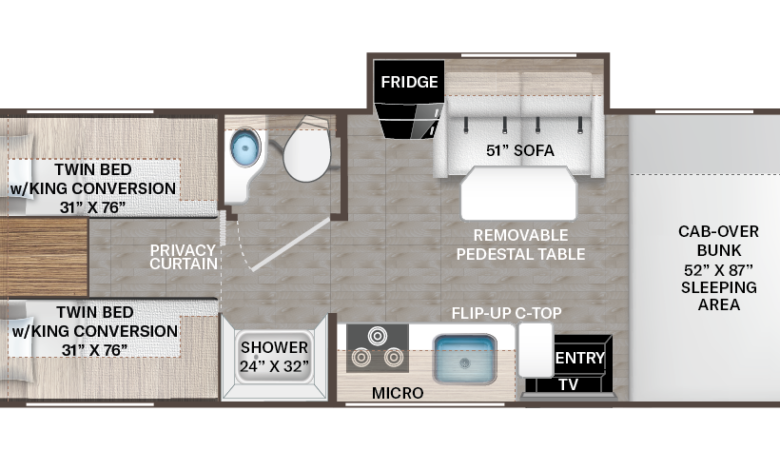 With Open House fast approaching, Thor Motor Coach (TMC) announced numerous new product debuts across all its lineups, including new floorplans for all motorhome brands. Tankless water heating systems will integrate into most products for an overall camping experience upgrade.
"More and more motorhomes in our lineup are offering upgrades on the electrical components. We are working to provide sustainable features to our owners. Many units have lithium batteries instead of traditional lead-acid, and we see a very high option take rate for solar. Just about every vehicle we are producing has the ability to include or option solar charging," says Chris Carter, director of product development.
Several product lines now offer optional blind spot monitoring for increased safety out on the road, providing visual indicators to alert the driver when another vehicle is in the blind spot. Other new-and-shiny features are hitting TMC brands across the board.
Class A
TMC revealed its latest across numerous brands for 2024 Class A motorhomes, including the "epitome of luxury" in the new Riviera motorhome. The diesel pusher now comes with blind spot detection for enhanced safety, and for comfort, an electric power cord reel and a Project 2000 cockpit bunk, as well as a stacking washer/dryer and soft-closing drawer guides throughout. The diesel brand will receive a new 34HD floorplan.
Hurricane and Windsport lines will come equipped with a 100-watt solar panel and a Euro-style loft bunk, and a choice from two HD-MAX graphics and partial paints. In the interior, new décor options are available exclusively in the Windsport.
Palazzo will also feature the Project 2000 cockpit bunk mechanism, a quiet ducted return A/C system, smart TVs in the living area and new furniture styling.
"A Palazzo GT model is slated to be shown at the Open House," says Product Manager Matt Grubaugh. "Deemed the most affordable diesel pusher in the Thor Motor Coach lineup, the GT refreshes what has provided success for the Palazzo over the last 10 years. Designer interiors, modern cabinetry, mainstream floorplans and aggressive pricing are all intended to give more consumers the chance to experience the ride comfort and seamless power a diesel pusher platform can provide."
Meanwhile, the Miramar will tout three new full-body paints and blind spot detection.
In addition, a 25.7-foot floorplan is the latest to Axis and Vegas Class As. The company says the new floorplan offers more sleeping arrangements and new countertops, luxurious carpets and a gray décor option, London Fog, complemented by Coastline Gray cabinetry. Both models now include standard holding tank heat pads and a 100-watt solar panel. The Vegas boasts two HD-MAX graphics packages designed to stand out.
The Outlaw Wild West Edition has a new look and more features for buyers needing a budget-friendly Class A toy hauler motorhome option. On the other end, the Laminate luxury Class A will introduce its MM30 floorplan.
"The ACE continues to set the bar for modern design and contemporary styling, with all new exterior colors and graphics, marble patterned shower surround, chic Malibu interior cabinets and luxurious new furniture designs," adds Terry Jones, product manager.
Class B
TMC's Class B brands will also feature a slew of 2024 upgrades.
Dazzle and Twist lineups will see minor tweaks such as Diamond Shield paint protection and a redesigned rear passenger side cabinet on its 2AB floorplan, offering more storage space.
Compact camper vans Rize and Scope will feature interior design updates, a convenient sewer hose storage container and new cabinetry options on both models.
Tellaro and Sequence lines will also boast Diamond Shield paint protection along with induction cooktops inside, new sewer hose storage and an optional lithium-ion power package.
"The Re(Li)able energy kit option for the Sequence and Tellaro vans now feature Austostart for the engine. If the lithium batteries become depleted, the electrical system will protect itself by starting the vehicle engine, using the underhood alternator to charge the system rapidly," the company says.
Sanctuary and Tranquility models also have paint protection, along with a hitch step/dog tie and sewer hose storage in the 19L floorplan. The Sanctuary line will debut three new floorplans – the 19M, 19R and 24C.
In addition, Product Manager Hillary Trout says, "A new line of Ford Transit-based vans will drive dealer excitement at Open House. These vans are aimed at those adventure seekers who love getting way off-road, not just off the pavement."
In the Class B+ segment, newly designed Compass and Gemini models boast refreshed interiors, new countertops, plush carpets and shower surrounds. On the exterior, both brands feature new HD-MAX exterior graphics packages.
Class C
Updates to six Class C brands are debuting from TMC. Most lines will receive 12-volt refrigerators, Product Manager Gary Stanton says.
"All Thor Motor Coach units with 12-volt refrigerators include automatic generator start to ensure nothing in the fridge spoils," Stanton says.
The Chateau and Four Winds brands will boast new exterior graphics and are built on a Ford E-series and Chevy chassis. Keyless entry will be offered, and select floorplans now offer an optional 100-watt solar panel as a renewable energy solution. There's also a 12-volt refrigerator. Chateau's lineup will have a new 27P floorplan.
Echelon and Quantum Class Cs also offer two new exterior graphics, along with an expanded range of cabinetry options and other new décor, plus keyless entry. The two units also offer Wi-Fi and 4G connection through the Winegard system, and now standard is a 100-watt solar charging system that helps maintain the batteries while using the RV off-grid. Quantum will debut the GL24 Sprinter-based Class C for 2024.
Delano and Tiburon, both built on the Mercedes-Benz Sprinter chassis, will debut cabinetry options, a sleek design and an optional blind spot detection feature. The models also offer a 15,000-BTU air conditioner with a heat pump and a 200-watt solar charging system to elevate camping trips.
Super C
The Magnitude and Omni Super Cs are now CAT6 video distribution ready, providing what the company calls a seamless entertainment experience for tech enthusiasts. The interior features marble pattern décor printed shower surrounds, giving the RV bath a luxurious feel. Both models offer an optional solar panel-plus package. Inception will see a more compact 34XG model, while Magnitude gets a new AX29 floorplan.
"The Magnitude and Omni lines offer a true 'boondocking' solar package with 500 watts of solar panels, offering more than 40-amps of battery charging on sunny days," the company says.
Inception and Pasadena lineups – which TMC coined "Mega Cs" – come with a 46,000-pound GCWR and a 15,000-pound hitch rating. The 2024 models now offer a range of cabinetry options, allowing owners to personalize the interior to reflect their own style. Both lines also offer a stacking washer and dryer and feature the ceiling-ducted Whisper Air central cooling system. For safety, TMC added dual child tethers and four seat belts at all booth dinettes. To unwind with movies or TV shows, the living area features a smart TV.