Features
Open House 2024: New Models From THOR's Keystone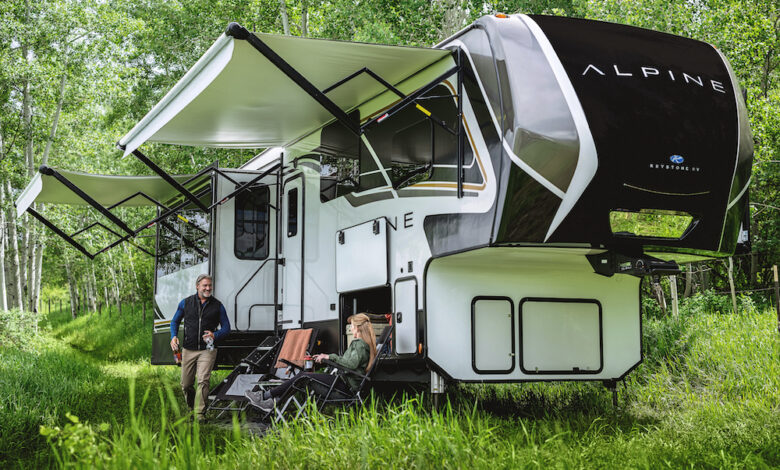 Travel Trailers Within Reach 
Keystone is turning back pricing as close to pre-pandemic as possible. The company is rolling out new Classic Collection opening price point models from six travel trailer brands.
In its lightweight laminated segment, the Bullet brand lowered price points across the board and will debut a new, compact 2220ML floorplan at under 27 feet long with an estimated weight around 5,400 pounds. The layout is designed for solo travelers and couples, featuring a wraparound rear kitchen and panoramic campsite views, plus sliding doors that reveal a queen-size bed with ample storage, opposing bedroom windows and a 19-foot awning outside.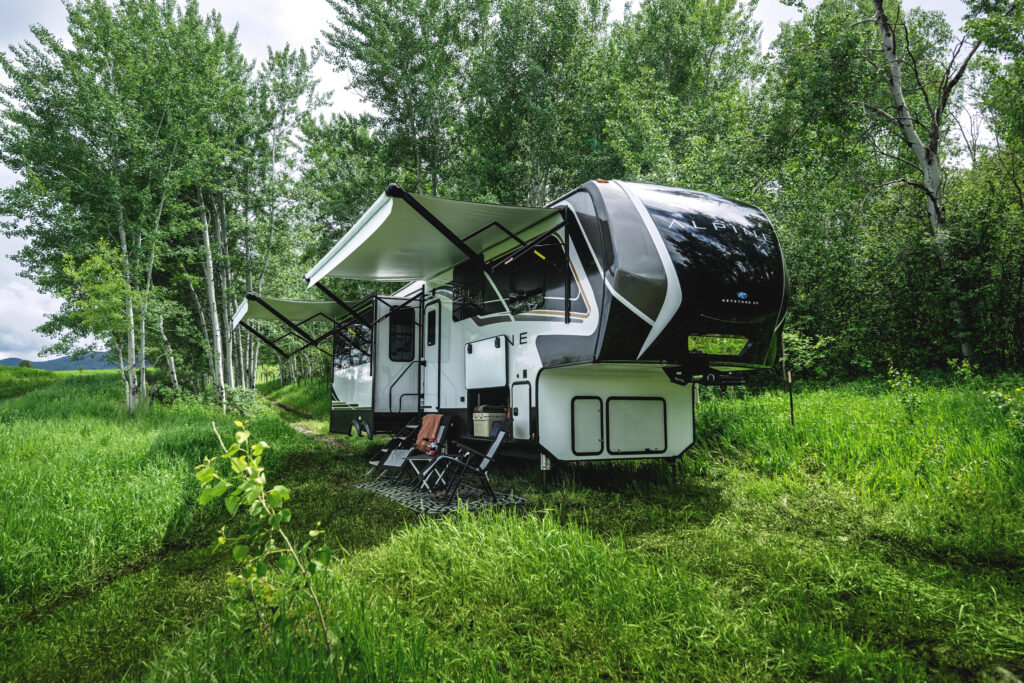 "With this floorplan, we're giving owners everything they want in a super towable floorplan. The super slide and awning were added to give campers nearly a third more living space once they're at the campground," says Jeff Wagner, product manager. "The best feature of this model is its length."
Bullet will now offer solar prep only – SolarFlex Ready – with its standard build. Buyers can opt to upgrade to the more robust SolarFlex Protect 220 and SolarFlex Discover 440i packages.
Keystone's Passport will also see updates with towing enhancements – 2024 models feature Dexter's torsion axles with an 11-year warranty and a TPMS system. Passport warmed up its interiors and added black appliances and origami-inspired door pulls. The brand's featured model – 2600FK – has a first-ever front kitchen and new cap design, which a price tag expected to be under $24,000. Other features include a 32-inch TV, power awning, tankless water heater and glass front door.
"Being able to bring to market all the changes that have been requested from dealers and owners is something I am proud we have accomplished and am excited for the direction of where Passport is headed," says Product Manager Colin Dechant.
Conventional travel trailers will see a new value line – the Hideout Sport with five floorplans – in addition to lower prices on all 2024 Hideout models. MSRPs for the single-axle Sport models start at just over $17,000, with the opening price point for dual-axles under $24,000. Standard Hideout models are getting a top-to-bottom refresh, moving from white cabinets to Modern Maple shaker-style cabinetry, white marble countertops and more.
"The most exciting new floorplan in Hideout's standard product line is the 32TQS. Designed for families or adults who want to travel with friends, this floorplan introduces queen-over-queen, open-concept bunks with staircase dressers on either side. In addition, there are two exterior bay doors at the rear of the coach, providing easy access to storage beneath the bunks," says Product Manager Andrew Elliot. The layout also has a large, U-shaped dinette and a split kitchen that maximizes counterspace, with a price tag starting just under $40,000 and expected dealer pricing in the mid-$30,000.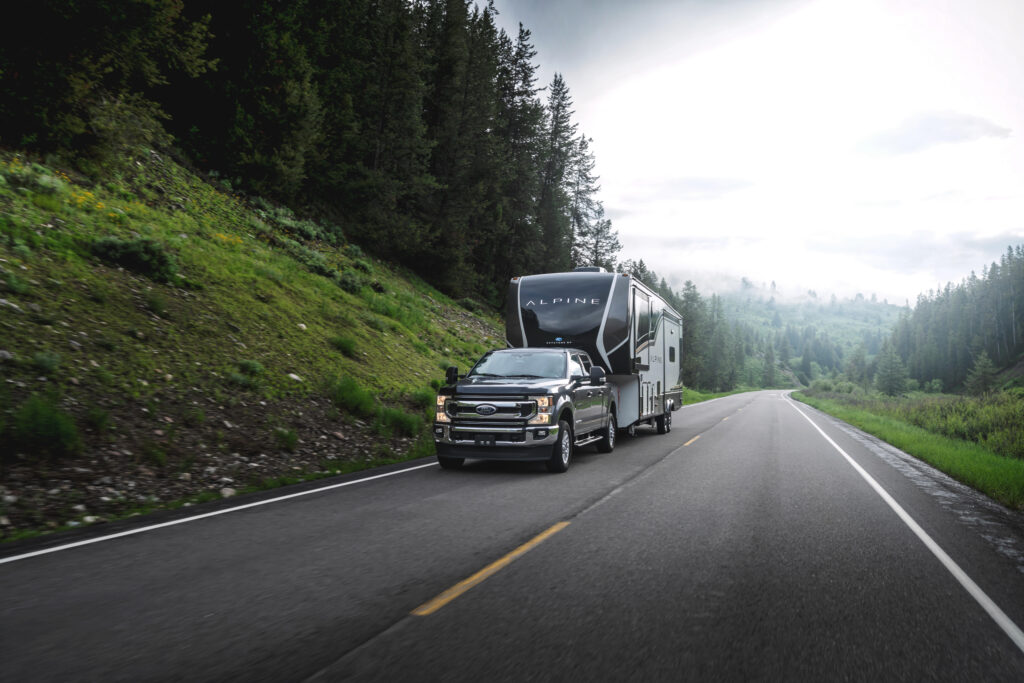 The segment will also see lower price points and new Classic models in its Springdale brand, the latter lineup offering single- and dual-axle models starting under $17,000.
"This year is Springdale's 25th anniversary and what better way to celebrate than going back to the basics and providing entry-level campers with everything they need," says BJ Kloska, product manager.
Springdale Classic fine-tuned its "best-selling layout for families" with the new 260BHC, shedding 300 pounds of weight on a 28-foot nonslide bunkhouse with a price tag around $24,000 and key features not typically seen at that price point – including a three-piece bathroom, two-burner cooktop, 12-volt refrigerator and more.
Like all Springdale models, Classics will be built with Keystone's solar prep package, but owners can opt for SolarFlex Protect 220 for added battery protection and continuous operation of 12-volt systems when not connected to shore power.
On the other hand, luxury travel trailer brand Outback is debuting two new single-axle models in its OBX lineup extension.
"Outback has never done a single-axle floorplan," says Product Manager Jeff Kloska. "At between 3,000 to 3,700 pounds, OBX models will be a great fit for SUV owners. This is the perfect model for adventure campers who want to get off the beaten path."
The OBX 17BH and 18BH will be followed by three more models later in the year, with the first offering a baggage door on the trailer's off-campside side for access to under-bunk storage, a bike storage exterior compartment and an optional Y-style bike rack and roof rack. The SolarFlex Protect 220 will be standard on all OBX models, but buyers will have the option to add SolarFlex Discover 440i and Dragonfly Energy heated lithium-ion batteries.
The OBX 17BH is just over 20 feet long and will have a suggested retail price in the low $30s.
Outback will also debut a new ultra-light luxury trailer deemed the 296URK – the brand's first rear kitchen floorplan with an island and dedicated workspace. By eliminating overhead kitchen cabinets, owners get "immersive" campsite views with a 72-inch by 35-inch window above the sink and another near the wraparound countertop.
"With remote working in mind, the 296URK was designed with a 45-inch-wide desk with drawers and pop-up USB and 110-volt outlets and its own picture window to sneak a little daydreaming in during the workday," says Jeff Kloska, product manager. The Outback 296URK will have all of the luxury features for which the brand is known:  6-point hydraulic leveling, tankless water heaters, Hyperdeck high-performance flooring, dual-ducted A/C, and the four-season Elements climate control package.
A Broader Toy Hauler Portfolio
Keystone's Raptor and Fuzion are targeting powersports enthusiasts with new, wide-open floorplans. Raptor Carbon WFO and Fuzion Impact Wide-Open models remove the garage barrier wall and add tie downs so owners can travel with multiple bikes. Both brands introduce stick-and-tin models with haul-worthy chassis and running gear for a more affordable price.
For 2024, Fuzion is adding a second two-patio floorplan complementing its popular 424 side-patio model debuted in 2020. The new 425 shifts the side patio to the back, bridging a 13-foot garage and the living area. The patio has a sliding door and entertainment center with a 40-inch TV.
"The 425 also features an outdoor kitchen that is equipped with a pull-out cooktop and refrigerator. The open concept living and kitchen space flow together in one combined space. The Fuzion 425 gives owners additional sleeping space with a built-in hide-a-bed in the living room," says Product Manager Nick Ebenroth.
The layout's garage is equipped with Fuzion's frame welded tie-down system that gives owners 38 points of contact. Different from most other floorplans, the loft bunk area/storage is accessed through the garage and not the main living area. Off the garage is a half bath for added privacy.
"Perhaps the biggest change for 2024 is Fuzion's new front cap and exterior graphics, this new profile allows for much more usable exterior storage. By opening up the passthrough and front storage, this space is more easily accessible and easier for owners to store larger items," Ebenroth says. The 425 weighs about 16,675 pounds at 44 feet, 11 inches long.
Also new to the segment is the Raptor 428, a full-size fifth wheel toy hauler with a 15-foot garage and living area made for entertaining. The hauler includes a bar-height cocktail table that sits next to heated, massage and USB recliners. All Raptor floorplans for 2024 have upgraded to a 24-inch Insignia oven
and range.
Not only can you haul, but also the 428's garage space can be used as an additional sleeping space with two extra queen-size beds for another couple, kids or friends joining the adventure.
"Rarely do you find a functional toy hauler with a defined living space and main bedroom that has a 15-foot garage. We are extremely excited for owners to have the best of both worlds in this great floorplan," says Ian Griffith, product manager.
Raptor will also debut its new Carbon Series WFO lineup with toy haulers made for powersports enthusiasts, including open concept garages with an eliminated barrier, open floorplans and tie downs throughout the coach. This series includes two fifth wheels, four laminated travel trailers and four traditional travel trailers with aluminum side walls.
"In the past few years, we've introduced 15- and 17-foot garages to accommodate larger equipment, but I saw a need to build haulers that could carry multiple bikes," Griffith says. "This series was born out of my love for motocross. With the new WFO multi-bike design, those buyers now have options in our product line."
At less than 40 feet, the Carbon 340 has a 23 feet of usable garage space. Equipped with 17 frame-welded tie downs and multifunctional furniture that can be moved out of the way for whatever an owner is hauling, WFO floorplans like the 340 invite more buyers into the brand.
"There truly is no sacrifice that owners will have to make when choosing a wide-open floorplan," Griffith says.
Like all Raptors, the rear of the Carbon 340 includes a queen bed on a lift with two HappiJac sofas underneath. The main suite has a walk-in shower and linen closet.
Traffic-Driving Fifth Wheels   
Fifth wheels saw an "incredible" 2023, Keystone says, including its No. 1-selling Cougar brand. For 2024, Montana gets an interior facelift and new exterior graphics, Alpine formally introduces the Avalanche series, Arcadia debuts new models for a full portfolio in 2024 and more.
The segment's new luxury full-profile Alpine 3011CK will spotlight a "spirited" exterior makeover tailored toward the brand's younger and young-at-heart owners. "Legendary" fifth wheel designer Sam Lengerich started with the lineup's 35-footers.
"Our goal was to dominate this segment with a better experience," Lengerich says. "In shorter fifth wheels, owners normally lose space in the bath and kitchen. Our primary objective with Alpine's 3011CK was to give owners both a more functional bathroom and a kitchen that has better space and utility."
Notable improvements for owners include a linen closet with pull-out shelves, enclosed on three sides. The bedroom offers an east-west king-size bed and full-width wardrobe with prep for a washer and dryer. Alpine added four pull-out drawers to the kitchen pantry, a bank of drawers near the range and hidden storage behind the range hood. A pull-out countertop was added to the range buffet area and an 18-cubic-foot residential refrigerator with an icemaker, or a 20-cubic-foot, 12-volt refrigerator, provides more than enough food storage for long stays. Alpine's 100-inch-wide body gives owners a larger rear pullout sofa.
The brand will also debut its 3303CK layout with similar kitchen and living designs to the 3011CK plus an extra 3 feet, bringing the unit to 400 square feet at 37 feet long. The master suite has a dual-sink vanity and 48-inch shower, with additional space in the linen closet and dresser, plus a smart TV and a 36-inch by 22-inch window.
Arcadia will introduce two floorplans in its Super Lite lineup of mid-profile half-tons. The 246SLRK comes in under 29 feet long, with a rear kitchen and flexible dining/workspace.
"With remote work on the rise, we wanted our owners to have a large workstation without having to sacrifice eating space. They get the best of both worlds in this floorplan," Lengerich says.
The camp-side table with a window has plenty of surface area for computer monitors, and a 50-inch smart TV on a lift sits across from theater seats or optional tri-fold sofa.
On the other hand, the new 294SLRD is "perfect for entertaining" as the longest coach in the brand's Super Lite 2024 debuts. At just over 33 feet, the triple-slide layout weighs under 9,000 pounds with a rear living configuration and U-shaped kitchen. Arcadia's twist on the design is an extra-long 82-inch sofa sleeper, two theater seats and a free-standing dinette. The floorplan is equipped with an outdoor kitchen and mimics the bedroom/bathroom layout of the 246SLRK.
Keystone's best-selling Cougar brand will debut its new mid-profile 260MLE at under 31 feet long, with an innovative dining/entertainment setup designed for long-haul travelers. A wraparound kitchen includes ample counter space, a pull-out trash can, coffee station and hutch. The layout's dinette was eliminated for a tabletop that can be pulled out and stowed above a fireplace. A ceiling fan sits overhead and an outdoor kitchen is tucked underneath kitchen cabinetry. An added convenience, owners are able to access the refrigerator and bathroom while the slides are in.
"Customers want more usable space instead of a stationed dinette, and customers want a workspace," says Product Manager Scott Taylor. "We solved both by introducing our pull-out table/entertainment center. Our cleverly designed entertainment center, which normally houses a TV and fireplace, now transforms into an eating area or office space by pulling out a hidden table surface."
In its luxury full-profile segment, Montana will introduce sectional seating in its new 3531RE floorplan that comes in just over 38 feet long. Buyer enthusiasm for Keystone's new shorter fifth wheels encouraged product manager Nick Ebenroth to add a third compact unit for 2024 – the Montana 3531RE.
"The new floorplan makes shrewd use of its footprint with a wraparound peninsula kitchen flanked by nearly 60-inch-wide pantry. From behind a massive countertop, owners look at the living area that is outfitted with a gorgeous 9.5-foot by 7-foot sectional sofa, dining nook and rear entertainment center with a 45-inch smart TV," Ebenroth says.
Lastly in Keystone's 2024 lineup is the wide body, full-profile Sprinter 3810QBS for families – a bunkhouse boasting four double beds and a private bathroom. The quad bunk was first introduced by Passport in 2020 and became a brand mainstay, Keystone says, and its newest Sprinter "ups the ante" in the bunkroom with a massive wardrobe, mini fridge, TV prep and half bath directly accessible from the campsite.
Flip-up bottom bunks combined with Sprinters' 100-inch-wide body offers loads of space for oversized gear.
Product Manager Jeff Kloska says the model was designed with privacy in mind.
"By providing a separate half bath and entrance to the rear bunkhouse, this floorplan is perfect for large families with older kids who all appreciate having their own space," he says.
The unit's living area boasts theater seats and a dinette or a new, optional 135-inch Super Sofa that fills the slide room's width – all sitting across from a TV and fireplace, near a kitchen with a massive wall-sized pantry and a large island.