News
2021 Preview: Grand Design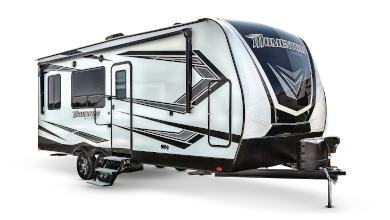 The Grand Design Momentum
COVID-19 cancelled this year's Elkhart Open House Week, but RV PRO still wants to give readers a sense of what to expect in the new model year. Be sure to check out RV PRO's entire 2021 Model Year Preview in the September 2020 issue.
Grand Design
Grand Design first introduced travel trailers just two years ago – but has been quick to grow within the segment and build on its early successes for 2021.
"We have a new travel trailer model coming, the 30G, that's really special," says Nate Goldenberg, general manager for the Solitude and Momentum brands. "It's wide open."
The Momentum TT 30G is 34 feet, 11 inches in length, and has 20 feet, 8 inches of cargo space with a four-person dinette, two Euro chairs and a HappiJac dinette.
"For people who have big families or camp with a lot of friends, it has a massive living area," Goldenberg says. "While it's not a huge floorplan, length-wise, for toy haulers, we're really excited about it because it has a private front bedroom, a double-entrance bath, and large windows on the camping side to really open it up."
Momentum also is introducing a new floorplan for fifth wheels: the 395MS.
"It's an updated version of a top-seller that features a new front end, remodeled bathroom and a completely redesigned kitchen and living area. The garage has also been expanded to 13 feet," Goldenberg says.
Another popular floorplan is the 376THS, which is a 41-foot, five-slide unit that will now have a smaller version available, called the 336.
"It's a little brother to the 376THS," Goldenberg says, "that's a variation and will also be available in Solitude. It's approximately 38 feet with the same garage space as the 376. It's unique in that no one else has introduced a front lounge of its size – especially with a garage. We're excited about the 336 because we've been asked for years about having a smaller floorplan of the 376 and now we've figured out how to successfully do it."
Rob Groover, product manager for Grand Design's fifth wheel Solitude, says the RV maker's Solitude and Solitude S models are rolling out new features for 2021.
"Both will have new exteriors with new colors and graphics," he says, "and we've 'touched' everything in the interior."
Those changes include new countertops, flooring, hardware, Pendant lights and glass cabinet inserts, among other amenities. "We'll also have Compass Connect, which is an app-based RV system control and monitoring software for slide-outs, leveling systems, awnings and lighting," Groover says.
He adds that the Solitude is also moving to an HT, 17.5-inch Cooper tire as a standard feature, which has a heavier load range. "We went from a 4,080-pound load range to 4,805 that's a heavier-duty and beefier tire that no one else is offering at this price point," Groover says.
Solitude also will be introducing a new model – the 346FLS – that features a front living room and a front-cap windshield. "It's unique because it's under 38 feet," Groover says. "Most front-living units in the segment are well over 40 feet in length. In addition, the 346FLS has a raised rear end for huge passenger storage."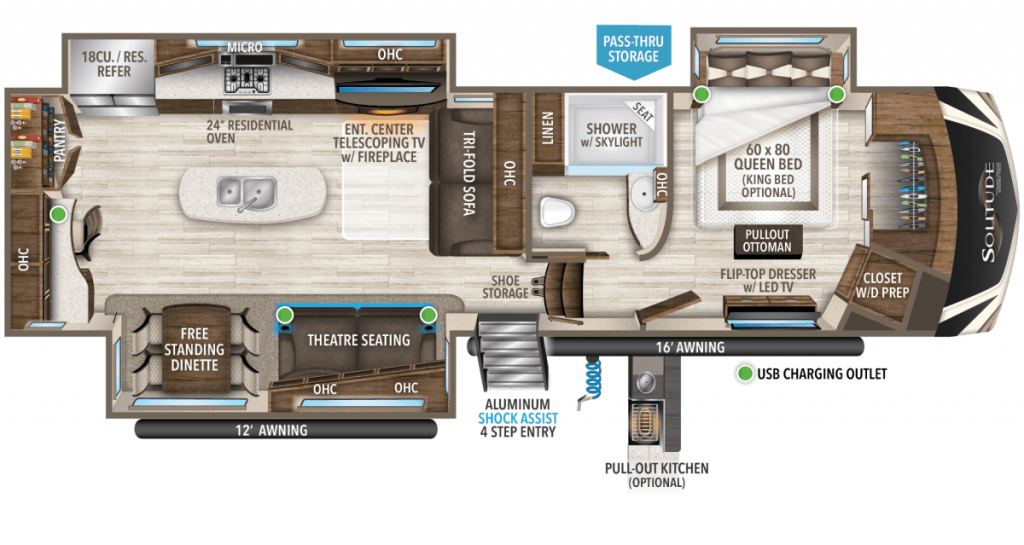 Another Solitude new model, the 345GK, is an improved version of the former 344GK.
"We flip-flopped the kitchen slide and dinette slide, and we moved the big window for the dinette to the camp-side of the coach so RVers aren't looking at their neighbors. That was done as a result of consumer feedback," Groover says.
Also being introduced is Solitude's 378MBS, which is based off of the former 377MBS.
"It used to have a loft in the bunk room that we removed, allowing us to have a much taller slide and add three windows, as well as a coat closet by the entry door and a deeper bedroom slide," he says. "The living room TV is also now on a lift with a window behind it."
All kitchen slides in all models now feature flush flooring, eliminating a two-inch lip and a tripping hazard. Wi-Fi prep also has been added to all models.
"We're always listening to our customers and investing a lot in social media when we build our products," Groover says. "We're constantly getting feedback and improving all the time."
Meanwhile, last year, Grand Design's efforts for its Imagine travel trailer focused on its interior – and the manufacturer is building on its success for 2021.
"It's been received unbelievably well and we're having the best turns that the brand has ever had," says Eric Landis, product manager for Imagine. "Our focus now is more on enhancing the floorplans and making tweaks."
The Imagine XLS platform runs from 15 feet to 24 feet, while the Imagine can reach up to 37 feet with multiple slides, all of which can be towed by a half-ton pickup or SUV.
"We design and implement design changes – not once or twice a year like other manufacturers – but consistently on a weekly and monthly basis," Landis says. "If we feel we can put a better product out into the market, then we won't wait – we'll do it now."
Some floorplans have been discontinued and their product spots have been filled with top-turning layouts to get them into the market. The Imagine 3000QB, for example, is being replaced with a 2910BH and there is a 2610ML floorplan that's taking the production slot of a 2450RL. New to the lineup is the 3110BH.
"We're really focused this year on increasing our exposure in the bunkhouse world," Landis says. "We had very good bunkhouse floorplans, but now we have great ones and a better variety."
Over the years, Imagine has had a handful of different bunk options, Landis explains, and moving forward it will introduce a 2400BH and a 2570BH layouts, which will be a steppingstone to the 2400BH.
"Our bestselling unit for the brand for years has been the 2800BH. We haven't had much of a steppingstone over the past few years – but we now have the 2910BH and the upgrade from that will be the 3110BH, followed by the 3250."
Those units offer different sleeping capacities with a single-slide for the 30-foot and 34-foot platforms, or a double-slide or triple-slide, and there are different weight and price segments within the Imagine line, according to Landis.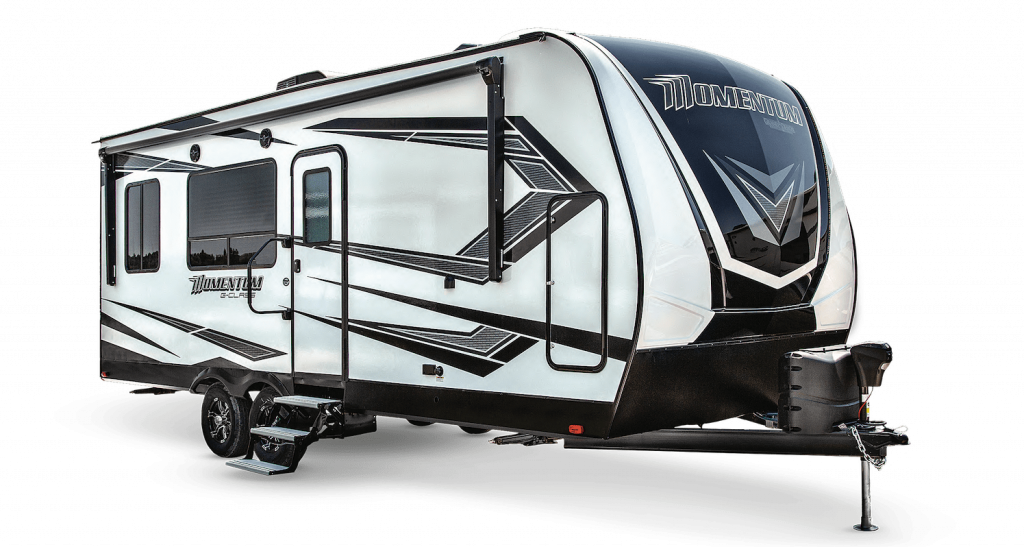 "We strive to build the best product with the best materials. We're not the most inexpensive or the lightest, because that would jeopardize our core values. Our product does very well because we don't deviate from that – we're right where we want to be from a floorplan perspective and the amenities we offer," he says.
Landis, who has been in the industry for 14 years, says he's fortunate to work with individuals that are "second-to-none" in design and manufacturing.
"We spend a lot of time on even the smallest details. When we walk into a plant and see everyone building the product, it's clear that we all take pride and ownership in our manufacturing," he says. "Our quality is a direct reflection of our successes and the time we invest with our dealers and retail customers – it pays dividends."
Landis says it would be unfair to peg a typical Imagine cus- tomer to a specific demographic. "We've seen astronomical growth in first-time buyers, who are both Millennials and older generations. Others are coming from the motorized and fifth wheel segments who want a smaller unit, but still love the lifestyle," he says. "It's illustrative to us that we've made the right decisions with our floorplans, product development and amenities we offer. When someone comes to us from a $400,000 motorhome seeking to downsize, they have certain high expectations that we can meet for them. The Imagine brand has quality and excellent fit and finish. If we can achieve that at a lesser price- point, then we've done an outstanding job."
The 3100RB floorplan, introduced about a year ago, has experienced "tremendous success" because it has a similar design as a fifth wheel or motorhome, according to Landis.
"It's 36 feet long and has massive appeal for someone trying to downsize while still offering an abundant amount of room."
It features opposing slides, two tri-fold sofas that convert to a bed, theater seating, two double beds and a larger TV and fireplace. The 3100RB also affords panoramic views with windows in "every nook and cranny," Landis says.
Floorplans also are available from the other end of the spectrum that are weight-conscious and just more than 19 feet in length, but still offer a large bed, a "huge U-shaped" dinette, "tons" of countertop space, and two individual pantries.
To see the Grand Design preview in RV PRO online, click here.
Previously: 
Newmar and Winnebago Towables preview here 
inTech RV and Riverside RV previews here
Chinook RV and Gulf Stream Coach previews here 
Roadtrek and Xtreme Outdoors previews here
TAXA Outdoors and the Vanleigh previews here
Alliance RV and Nexus previews here
nuCamp and Leisure Travel Vans previews here