News
2021 Preview: Winnebago's Travato, Revel and Solis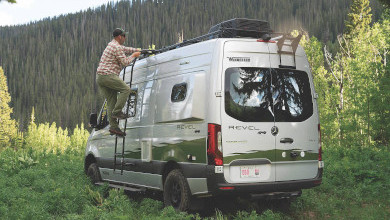 The 2021 Winnebago Revel
COVID-19 cancelled this year's Elkhart Open House Week, but RV PRO still wants to give readers a sense of what to expect in the new model year. Be sure to check out RV PRO's entire 2021 Model Year Preview in the September 2020 issue.
Travato
Winnebago has done an extensive redesign on its Travato line.
"It's going to be exciting," says Chris Bienert, product manager for Winnebago Class B products. "We've had a lot of feedback from owners and dealers that's led to significant changes."
The redesigned 21-foot Travato 59G and 59GL no longer feature wood floors, replaced with a composite flooring that improves insulation. Interior space has been expanded in the coach by placing tanks in insulated compartments below, which has been a "huge change," Bienert says.
The motorhome's bed also has shifted to a lighter aluminum framing, making it easier to set up.
Some of the traditional infotainment systems are absent this year and being replaced with Bluetooth-connected sound systems.
"The former mainstays of DVD and Blu-ray players are gone," he says, "and the Travato will also now feature more deluxe, automotive seating."
In addition, the 2021 Travato's roof and walls have been upgraded with automotive-grade insulation for improved thermal break and acoustic insulation; sumo springs in the front and rear increase the product's ride height and improve stability; and a new ultra-quiet Coleman-Mach 10 NDQ air conditioner has an interior shroud that includes directional vents, Bluetooth app control, a built-in thermostat and auto mode that turns the blower fan off when the compressor is not running. This new A/C also significantly reduces power draw, Bienert adds.
Revel
The Winnebago Revel also has gone through notable updates that include Xantrex Smart Lithium power and a Mercedes-Benz VS30 4X4 chassis that affords four-season comfort and off-the-grid capabilities.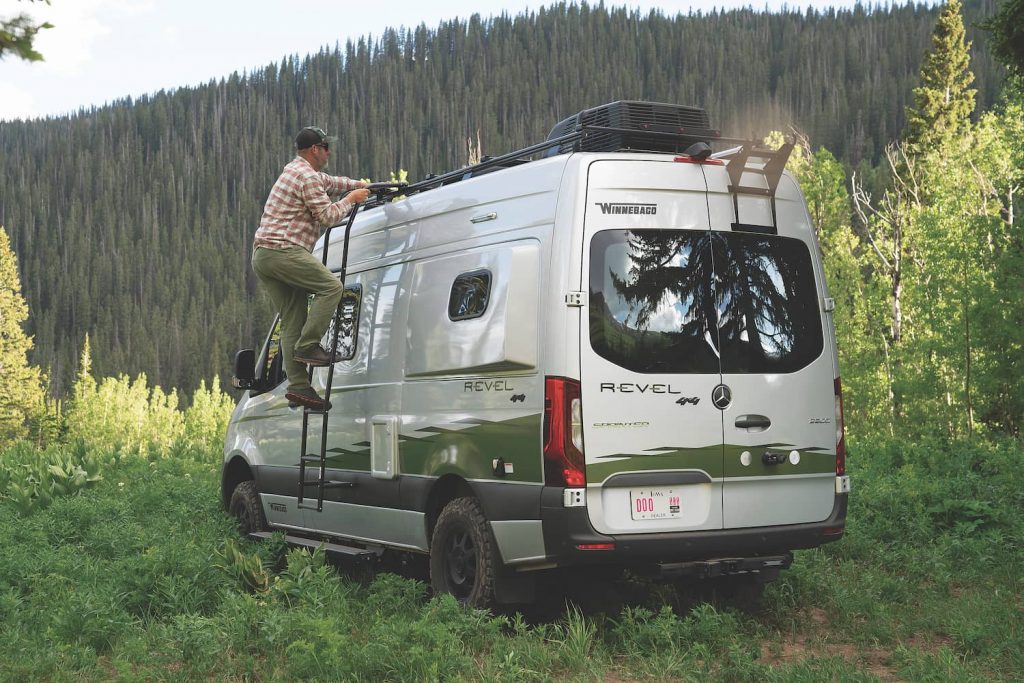 The 2021 Revel now features a larger compressor-driven refrigerator that is forward facing, so it is accessible outside of the motorhome. The RV's cabinetry has been improved with lightweight, durable and attractive overhead units that feature folded-aluminum construction, Bienert says. And the unit's freshwater tanks have been moved to the inside of the van on the passenger side for better all-season use.
Bienert adds that Revel's large countertop extension and the cooktop have become portable for additional countertop space and two safety belts have been added to the dinette with the one on the driver's side being a three-point seat belt.
Solis
The Winnebago Solis Class B camper van – first introduced during 2019 Elkhart Open House Week – is, by comparison, aggressively priced and designed for active families, and has undergone changes for the 2021 model.
"We use the idea of 'surf to slopes' in its design philosophy," Bienert says. "We considered what would be the best van to use at the beach that could then be turned around the next weekend and be the best van for the mountains. While it's not four-wheel drive, it has a lot of 'adventure van DNA' in it – the Solis has been very well-received."
The Solis line, which Winnebago designed in the spirit of the classic VW van, includes a pop-up top and a fuel-efficient Dodge Ram ProMaster chassis.
"There's more content, however, in the Solis than there ever was in the old VW line, such as a rear bed that can stay made up, and an internal wet bath, which is a huge difference from VW."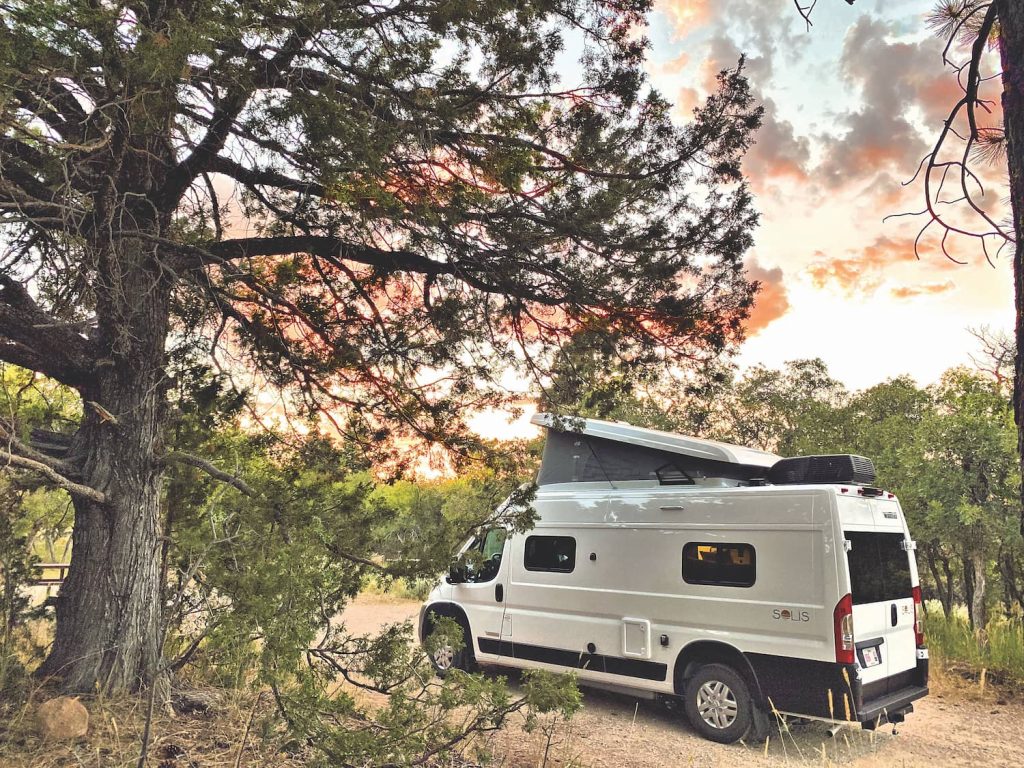 New for 2021 Solis 59PX will be the introduction of a second floorplan. While it has similar features as its former layout (still available), the 2021 model has an extended rear that also showcases a gear garage, which expands its capacity to haul gear internally.
"It picks up an extra 18 inches behind the bed – it's a big deal," Bienert says. He adds, "Built on the extended 3500 RAM chassis. That extra bit of space allowed us to include an innovative built-in L-track system. This strong, durable system can be customized with a variety of mounts and tie-downs that you can position precisely where you want to secure bikes or other gear and cargo."
The Solis also offers the ability to have outdoor showers in both the front and back. Bienert notes that there is a rear annex with a crossbar that connects between the rear doors to install a privacy curtain for users to rinse off.
The 2021 Solis 59PX also features a Cummins-Onan new 2,800-watt gas generator.
Solis will be the first in the market to use this new, quiet generator that meets National Park sound level requirements, according to Bienert. Its 220-watt flexible solar panel on the rooftop also allows users to spend more time off the grid.
"It's our first van since we worked with VW on the Eurovan that's designed around the concept for a family of four," Bienert says.
He adds that there was considerable market research that went into the 2021 Solis.
"It was the culmination of listening to people at shows and rallies who wanted a product that was sufficiently designed to accommodate a family – and to sleep four it required a pop top," he says.
The interior features automotive-style seating with two sets of three-point seatbelts and a dinette.
"It also has a considerably lower price-point than other Winnebago products for younger families," Bienert says.
To see the Travato, Revel and Solis in RV PRO online, click here.
Previously: 
Grand Design preview here
Newmar and Winnebago Towables preview here 
inTech RV and Riverside RV previews here
Chinook RV and Gulf Stream Coach previews here 
Roadtrek and Xtreme Outdoors previews here
TAXA Outdoors and the Vanleigh previews here
Alliance RV and Nexus previews here
nuCamp and Leisure Travel Vans previews here