News
2021 Preview: Lance Camper and Midwest Automotive Designs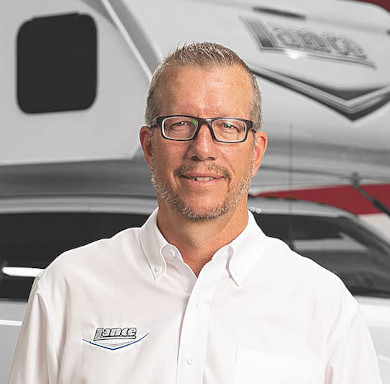 Bob Rogers of Lance Camper
COVID-19 cancelled this year's Elkhart Open House Week, but RV PRO still wants to give readers a sense of what to expect in the new model year. Be sure to check out RV PRO's entire 2021 Model Year Preview in the September 2020 issue.
Lance Camper
Everything old is new again, the saying goes, so when people see the new truck camper and new travel trailer for 2021 from Lance Camper, they shouldn't be surprised that neither unit has a slide-out.
The California manufacturer already offers several truck campers, plus the 20-foot 2075 trailer, all without slides, and they are all popular sellers, according to Bob Rogers, marketing director for Lance. He's confident the new models will be, too.
Tentatively called the 1770 and due to go into production in January, the new trailer will be notable for something it does have: A configurable bed. Designed to suit couples who prefer to sleep separately or for friends and family who need their own bed, the design consists of a pair of XL twins that can be pushed together to make a king.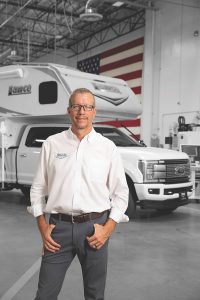 "We survey all of our new owners when they buy a Lance, as well as prospects that we get emails from, and we ask them what they like and what they'd like to see different, and it kept coming up near the top as one of the requests," Rogers says, noting the RV maker gets a 40 percent rate of return on its questionnaires.
It's a rare feature in a 20-foot trailer that should accommodate a variety of buyers, he says, from older customers to hunters who bring others along on trips. While the 1770 is the only new trailer Lance will debut next year, the entire towable line will be getting a new look inside.
"Basically, what we're doing is transitioning all of our interior cabinetry from maple to driftwood, so from brown to gray," he says. "The 2075, which is the non-slide unit with a rear, U-shaped dinette and exterior kitchen that pulls out the back of the trailer, was launched in driftwood. Then, the 2445, which is a single-slide bunk model with double-size bunks in the back, came out in that color, too."
Lance – now entering its 14th year of making travel trailers – is taking the next few months to transition the rest of its 12 floorplans to driftwood, according to Rogers, given that it's been such a big hit among customers.
Another feature Lance will continue to roll out from the 2445 and 2075 is the ASA Electronics iN-Command Control System. Offered on those two models for the last six months, the system consists of an electronic keypad that allows owners to monitor tank levels, operate slides, control coach heating and cooling, and control the water pump and heater. It also includes an app so those functions can be addressed via smartphone.
On the truck camper side, Lance will welcome its first new such model since the 650 half-ton model, and the company's No. 2 bestseller, debuted in 2016. Although Rogers says it's too early to offer much detail about it, the camper will be 9.5 feet long and designed for use on both short- and long-bed trucks. Production is slated to start in October and, like the 650, it won't have slides.
To see the Lance Camper preview in RV PRO online, click here.
Midwest Automotive Designs
A company that began its business in 2013 building luxury Class B's on the Mercedes-Benz Sprinter chassis is adding a new marque to the mix for 2021: Ford.
Based on an all-wheel-drive Transit chassis, the new Ford Passage 148 from Midwest Automotive Designs also is unique because it will be the first – and so far, only – model offered with just lithium battery power, according to Jake Stephenson, director of sales. A generator – optional on the rest of the Midwest Sprinter- and Ram ProMaster-based lines, will not be available.
"We went all-electric on this vehicle and the industry is trending in that direction. Since this is a brand-new model for us, on the all-wheel-drive Ford, we decided to build them all-electric," Stephenson says. "For production purposes here, we wanted to build them just one way to try to get some efficiencies."
Powered by 600 amp-hour batteries from Dragonfly Energy, the Ford Passage should be a welcome addition for Midwest buyers.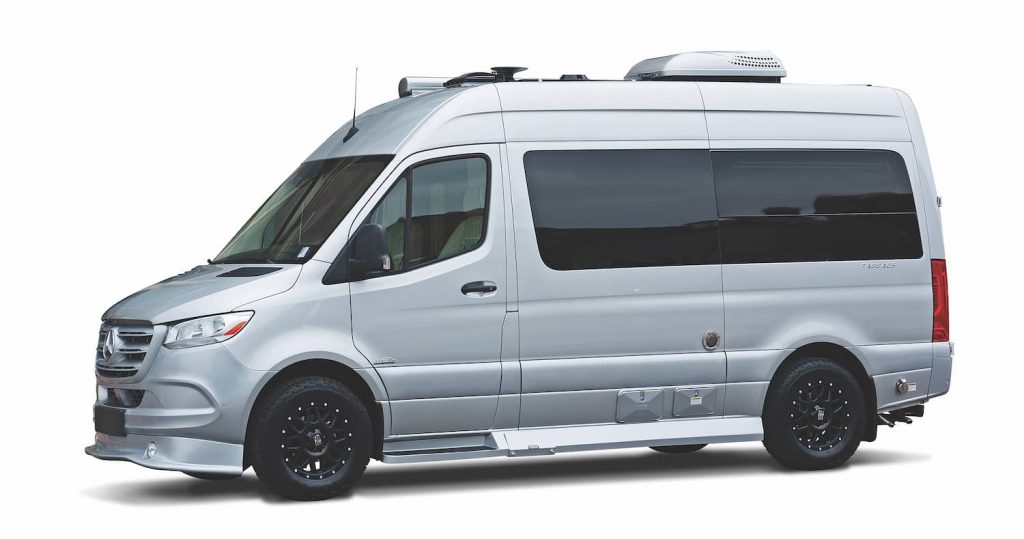 "We have a lot of people who like our fit, finish and quality. They've not been able to find that level of fit and finish on a Ford product anywhere. We've had a lot of people ask for it," Stephenson says. "They want a Ford just because of how many Ford dealers there are around the country. For service, there are a lot of advantages there."
When Midwest first asked dealers about offering a Transit model, the RV maker began getting orders before a product was even ready, according to Stephenson. Another advantage to offering a Ford means that chassis supply constraints are less troublesome for Midwest. Last year, Mercedes was swamped by getting a new plant online and a large Amazon order, so outfitters such as Midwest found themselves negatively impacted.
The Ford Passage will be equipped with its 3.5-liter, six-cylinder engine and 10-speed auto transmission, a new powertrain combination for the Transit that delivers improved overall performance, with enhanced acceleration at the low and mid ranges of the power band. Combined with the AWD system, the Ford Passage will be highly capable, according to Stephenson. "We tested it a little bit," he says. "We bought some of the two-wheel-drive Transits and sent them out just to make sure what we believed everybody wanted was what they wanted and had real good reception."
Stephenson says Midwest was especially pleased that the AWD version drove and rode as well as the two-wheel-drive models. In some vehicles, AWD and four-wheel-drive versions get stiffer suspensions, but it wasn't the case on the Transit.
Midwest will provide a 320-watt solar system on the Ford Passage, an option on its other coaches, and the unit will have an MSRP of $157,495.
Changes are in store for a couple of other Midwest models next year, too.
"We always upgrade, update and refresh every model year so they're not identical to our 2020 builds; they're very similar as far as floorplans," he says. The idea, of course, is to offer value-added features so owners of older Midwest units will want to trade in and, hopefully, up.
The Passage 170 EXT and Passage 144, both based on Sprinter chassis, comprise the company's other core products for 2021, and while not new, they are getting tweaked floorplans for more functionality.
To see the Midwest Automotive Designs preview in RV PRO online, click here.
Previously:
Winnebago's Travato, Revel and Solis previews here
Grand Design preview here
Newmar and Winnebago Towables preview here 
inTech RV and Riverside RV previews here
Chinook RV and Gulf Stream Coach previews here 
Roadtrek and Xtreme Outdoors previews here
TAXA Outdoors and the Vanleigh previews here
Alliance RV and Nexus previews here
nuCamp and Leisure Travel Vans previews here