News
2021 Preview: Coachmen's Spirit | Apex, Clipper | Viking, Catalina, and Fifth Wheels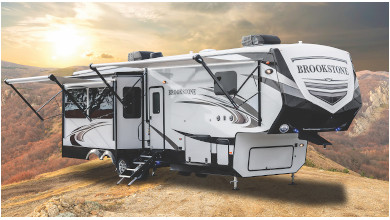 Coachmen's Brookstone is a new addition to the company's fifth wheel lineup.
COVID-19 cancelled this year's Elkhart Open House Week, but RV PRO still wants to give readers a sense of what to expect in the new model year. Be sure to check out RV PRO's entire 2021 Model Year Preview in the September 2020 issue.
Coachmen Spirit | Apex
Coachmen's Spirit has received a complete makeover for the new 2021 model year. Brand-new interiors complement new standards like a digital level mounted on the side of the unit and a battery disconnect switch. Interiors are lighter with clean, crisp lines and color schemes centered around light gray.
Sales Manager Andy Brock says the new 3272BH floorplan features a private bunk room, outside kitchen, dual entry bathroom and swing out pantry to capitalize on space.
Meanwhile, Coachmen's Apex has a new sub-brand, Apex Nano, offering all the amenities but in a smaller package. The front cap has a window that's double in size of normal front cap windows, which Brock says looks great.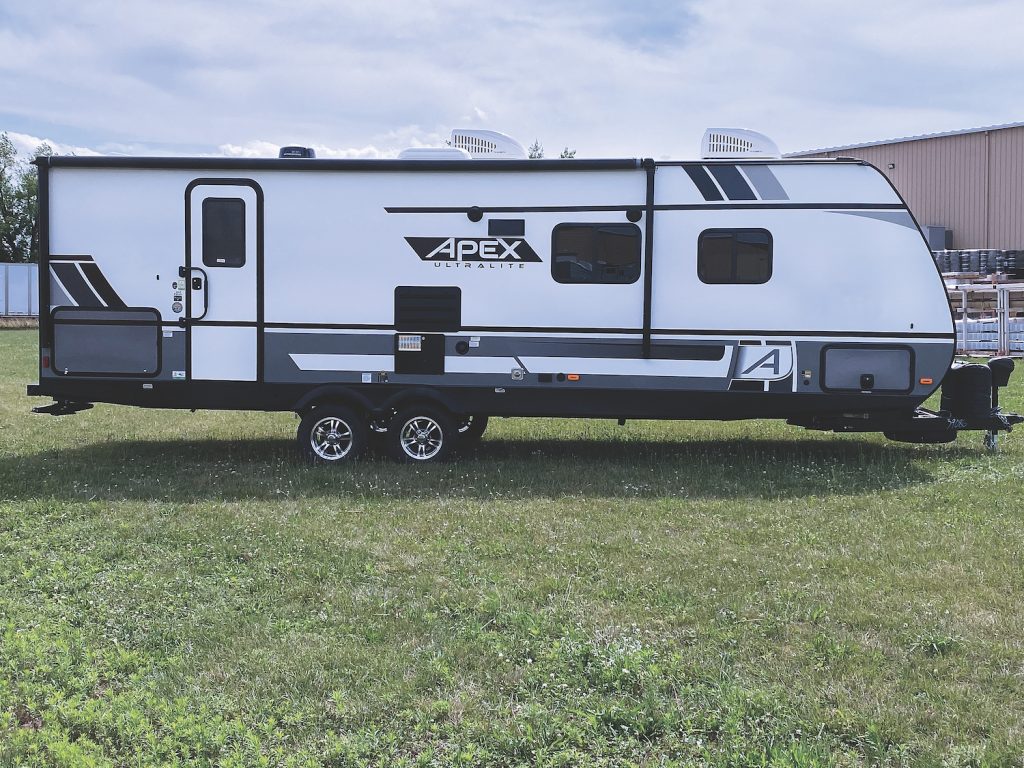 The Apex Ultra-Lite and Apex Nano lines have new fiberglass exteriors with gray fiberglass bottoms and white on top. The units also received a new graphics package.
Meanwhile, the entire Apex lineup now has solid steps and friction-hinge doors as standard.
The new Apex Ultra-Lite 290BHS has two entry doors, an outside kitchen, two oversize bunks, three closet areas and weighs about 6,000 pounds. The outside kitchen includes a two-burner cooktop.
"We went that way for three primary reasons," says Brock. "One: People want interior storage. We have three interior closet areas: two in the kitchen and one in the bedroom. Two: A lot of bunkhouses that size don't have entry into the bathroom other than near the bunks. People like to keep their campers clean, and with two entries to the bathroom it makes it easier. Three: The unit includes a small outside kitchen while still weighing in at 6,000 pounds. That's what shines." The 211RBS has a small rear bath with a large seating area and walk-in pantry.
"Most small trailers don't have a walk-in pantry," says Brock. "But this one will."
Coachmen Clipper | Viking
When it comes to changes, Product Manager Doug Lantz says it's best to think of Viking and Clipper in terms of travel trailers, ultra-lite and cadet saga travel trailers.
The TD series expands with the 12.0TD Max, available with an optional front storage deck to allow for an ATV, motorcycle, bike or other toys. The 4-foot deck goes on the front of the TD trailer. There also is an off-road camping package available.
"You can take it out remotely in the desert in the West or up into the mountains. It's easy to tow and lightweight, plus we put a side-mount door on this one, which allows you to utilize this particular floorplan with the roof down," says Lantz. "We've seen some need in northern areas, from the Rocky Mountains all the way up to Canada, for customers who want to use these but can't in areas with bears. It's not allowed. This allows the customer to use the unit as a traditional teardrop camper. If they want to go camping in areas outside restricted bear areas they can pop up the roof for more air flow and room."
The 12.0TD Max has a standard 13.5K-BTU roof-mounted air conditioning unit that couples with an exclusively designed kayak storage rack. Options include an outside shower and grill. A large screen room off the back of the camper expands usability and access to the outdoors.
The 12.0TD Max is 7.5 feet wide and 2,000 pounds. It comes with a microwave, a 3-cubic-foot refrigerator, galley sink, a queen-size bed and sofa.
On the camping trailer series for both Clipper and Viking is the off-road package, which is now available on all floorplans, instead of select ones as in the past. The package includes off-road tires and a lifted axel system.
In the LS series, a new portable cooler and freezer can be removed and taken with users on a picnic, fishing or a hike. It has both 12-volt and 110-electric. A new exterior is sleeker, with an automotive look with a high-gloss metallic finish on the outside. That exterior also will be available in the TD Max.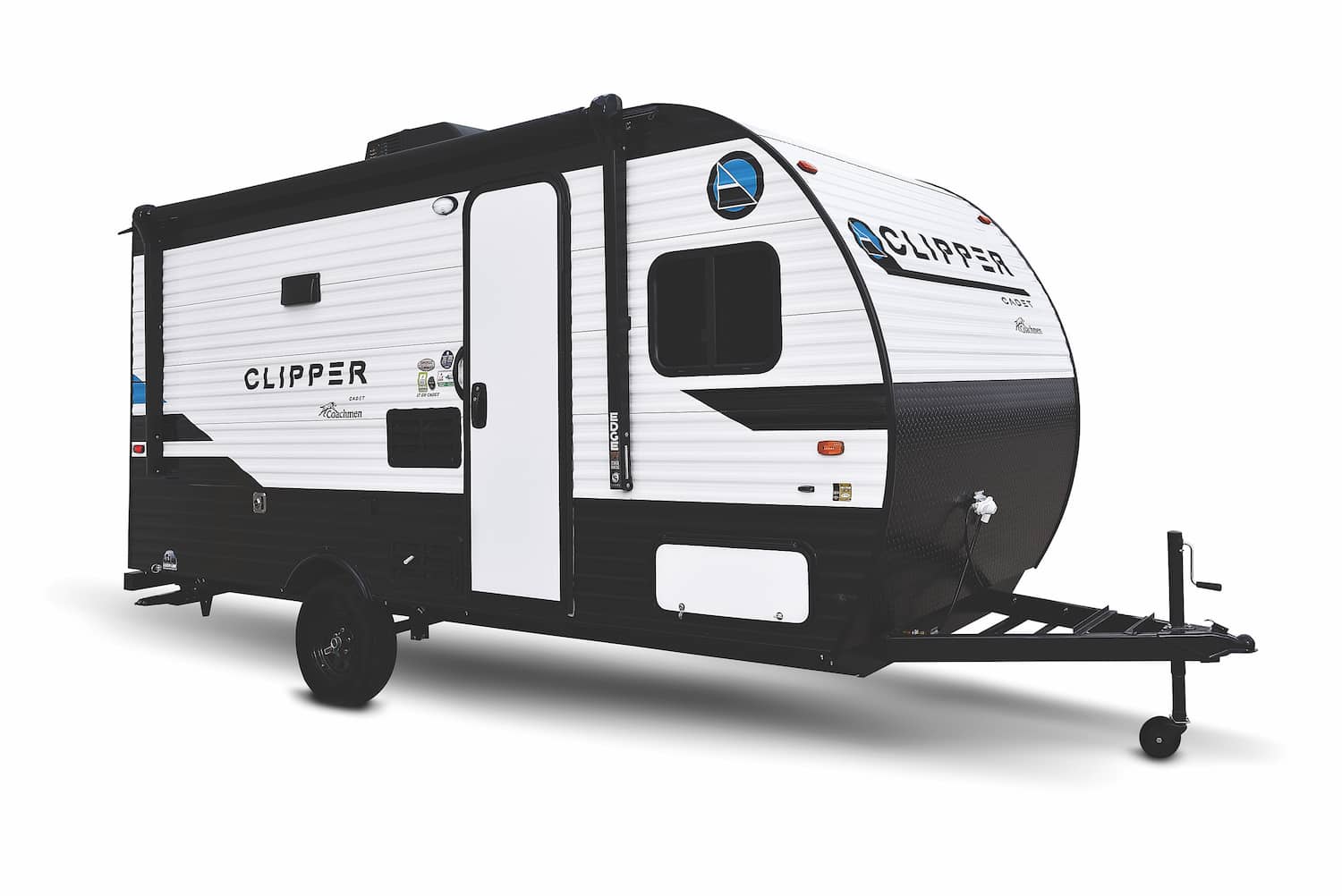 In the travel trailers, there are two new 7-foot-wide floorplans. The 172RD floorplan has an 84-inch dinette going across the back with a queen bed in front. The dinette can turn into an additional queen-size bed.
The 182DDL has a U-shaped dinette upfront with Murphy bed that comes down on top. With two double-over-double beds in the back, it can sleep up to six people comfortably. It's only 20 feet in length and less than 3,000 pounds. It features a pantry, an entertainment center, a bunk wardrobe space for kids and an outside kitchen area with a new grill/griddle combo.
The outdoor kitchen can be put into several different floorplan options.
In the dual-axle, 8-foot-wide units, there are three new floorplans. One will have a new bunkhouse for kids with a large rear bathroom and outside kitchen available.
The 272RLS has a large expanded front bedroom with expanded living room and entertainment center.
"In all three floorplans, we focused on countertop space, storage, entertainment and living areas," Lantz says. "The word for us is 'versatility'. We're making camping trailers cool again."
Coachmen Catalina
Catalina sees changes across all its segments this year, from look to function.
One of the most exciting changes, from Product Manager Michael Gaeddert's view, is a new flip-down cargo rack that will add 200 pounds of extra storage to a unit.
New 2021 Legacy changes include new linoleum, a new graphics package, the flip-down cargo rack, a Carefree awning with multi-color LED lighting controllable by remote, JBL Elite exterior speakers, new camp kitchens with griddle cooktop, all-in-one entertainment TV with true independent zone control and an optional off-grid solar package.
The Summit-8 Series, Destination, Trail Blazer, Summit-7 Series and Expedition segments offer similar changes.
"The multi-colored LEDs can dance and change colors. Everyone likes a cool ambiance," says Gaeddert.
Enhancing that ambiance is the addition of quality JBL exterior speakers and the all-in-one entertainment TV system that allows kids to be inside watching a movie, hooked up to the sound bar, while parents sit outside and listen to music via Bluetooth, all in one system. The system allows for independent zones and multiple functions.
Other changes include a 12-volt vent fan with the cutout prepped to fit or to allow more natural light. There is also now an LP quick connect.
"What I'm most excited to see how it plays out for us is our true off-grid solar package. You can have everything but your air conditioner and microwave function going. It has a 40-amp solar controller. Depending on how you're using it, you can add 480-watts incoming to truly go off-grid," says Gaeddert. "This is where the 12-volt setup will come in handy. You can put in the Maxx vent and not break the bank. The dealer just has to drop it in."
Coachmen Fifth Wheels
Fred Hershberger, general manager, and Greg Lebold, sales manager for Coachmen fifth wheels, didn't spend their time idly when COVID-19 forced manufacturing plants to close. "One thing COVID did for us was give us six to seven weeks with no production to sit down, think, and listen to campers about what they do with their campers, where they use them and how we, as manufacturers, can help," says Hershberger. "One thing we've looked at a lot is solar. When a customer is prepping in the driveway, at the gas station, having the auto leveler work when you get to the campsite is something solar can help them with." Another change coming to the lineup is the introduction of a mid-profile unit with three air conditioners.
"In warmer climates, a lot of times the bunks aren't cooling. Three air conditioning units will be a great push for that mid-profile and we're able to maintain the price point with A/C units and solar. It's something very hard to do, but good for families," says Hershberger.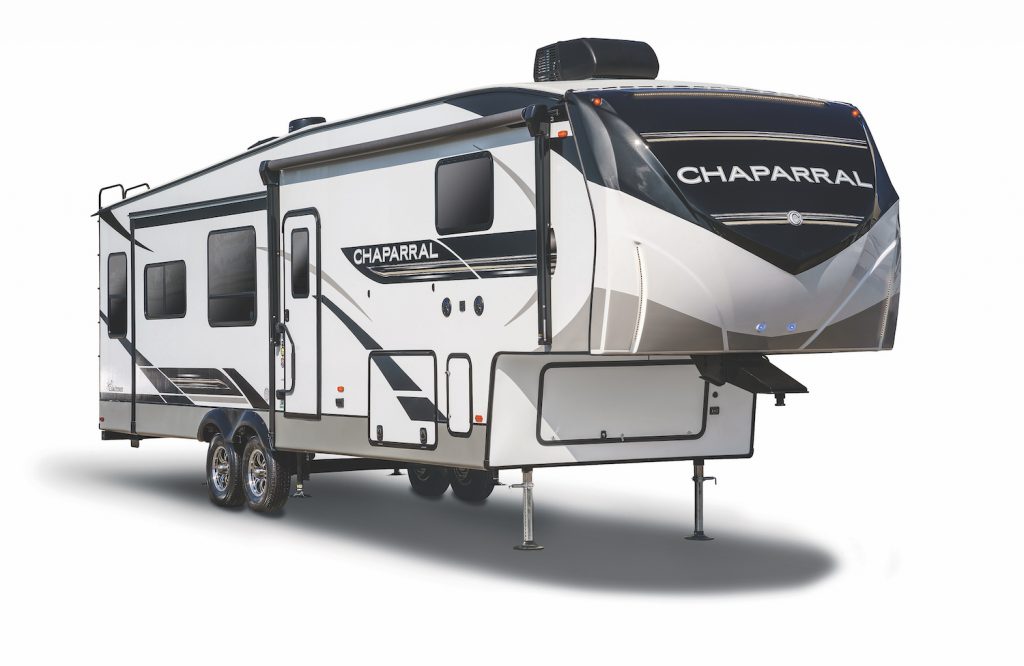 Lebold says Coachmen has new innovative floorplans that make sense for families.
"For instance, why can't we give mom and dad a great bathroom and bedroom area? We figured out how to do it. Walking around units, we found cubby holes in our front cap that weren't being used, so we put them to use. There are a ton of areas we can find storage. We're coming up with new ways like under-bed storage," Lebold says.
Meanwhile, Chaparral went through an interior and exterior overhaul this year with all new colors and well-thought-out changes.
The 355FBX gives mom and dad the whole big, open back area of the unit with a master suite feel with headroom and bed slide. The theater seats, dinette table and sofa all face the TV to provide a rear-living feel.
Also, Brookstone has a new 374RK floorplan with a new rear kitchen.
"We looked at this floorplan very hard over the last six months and realized that no one has really mastered it. We went back and created a quad slide with a huge sofa and dinette slide, as well as pantries in there," says Hershberger.
The interior kitchen feels residential with an oven and hood, an 18-cubic-foot refrigerator and an island with barstools. A large outdoor kitchen and a double awning make the outside as inviting as the inside.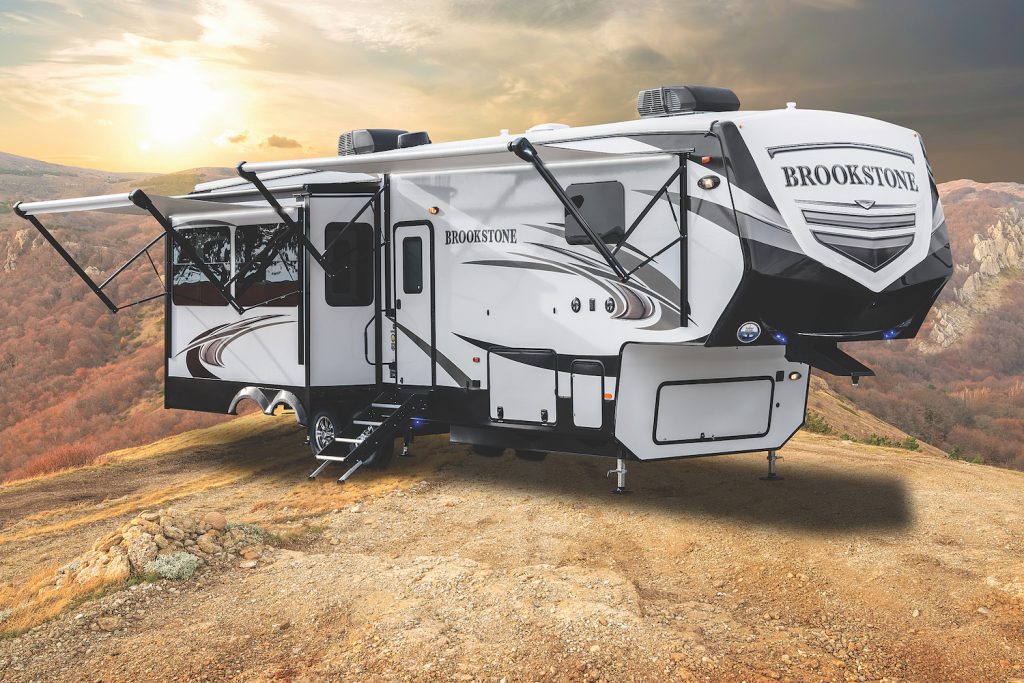 After experiencing success with the Brookstone 344FE, Hershberger says the RV maker decided to come out with the same style and concept at the same price point, but in a different segment. Enter the Phoenix 334FE. The 334FE has a big master suite with bedroom and bathroom that flows with double doors into a large kitchen area with storage. Three sides of countertops, a hutch area, stove top and island with a sink in it, provide plenty of storage. Up front are two theater seats, a sofa and 50-inch TV.
Phoenix also undergoes a graphics change this year and delves deeper into added storage and solar options.
After looking closer at customer needs, a re-occurring issue came to light. When units aren't plugged in, the battery runs down a bit, and operating systems like auto leveling don't work as well.
"This becomes extremely frustrating for retail customers when error codes come up on jacks and they think they aren't working properly when it's simply a lower voltage on their battery," says Lebold. "We wanted to take all that out of the equation and be able to install some solar panels so they don't have these issues pop up."
For these models previewed in RV PRO online, start here.
Previously:
Renegade RV and REV RV Group previews here
Lance Camper and Midwest Automotive Designs previews here
Winnebago's Travato, Revel and Solis previews here
Grand Design preview here
Newmar and Winnebago Towables preview here 
inTech RV and Riverside RV previews here
Chinook RV and Gulf Stream Coach previews here 
Roadtrek and Xtreme Outdoors previews here
TAXA Outdoors and the Vanleigh previews here
Alliance RV and Nexus previews here
nuCamp and Leisure Travel Vans previews here