RV News
2021 Preview: Forest River's Cardinal | Wildcat, Cherokee Wolf Pack, Cherokee Wolf Pup | Grey Wolf, and Sandpiper | Sierra | Cedar Creek | Riverstone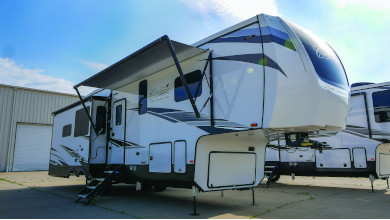 The Cardinal received an update for 2021.
RV PRO continues its preview of the 2021 model year. For the entire 2021 Model Year Preview special section, see the September issue.
Cardinal | Wildcat
Wildcat receives a clean launch this year since transitioning production plants.
"We did a total revamp of the product line and really focused on nine floorplans, mostly 35 feet long or less," says Michael A. Terlep, general manager. "We do have a mid-bunk floorplan closer to 40 feet, but we really wanted to focus in on a true mid-profile fifth wheel. It's Forest River's first true mid-profile."
Terlep says they primarily focused on price point, falling between $40,000 and $55,000.
"We focused on making it half-ton towable and other features like auto level, front windshields, wardrobe slides, solid-surface countertops and power theater seats," he says. "The response has been awesome and really, really positive."
The product has a completely different look with white and black interior cabinet colors.
The first floorplan built is the 336RLS, featuring a kitchen slide, living room dinette slide-out and king slide-out with walk-in closet and washer/dryer prep.
In the Cardinal lineup, Terlep says there was a focus on creating separation between Limited and Luxury products.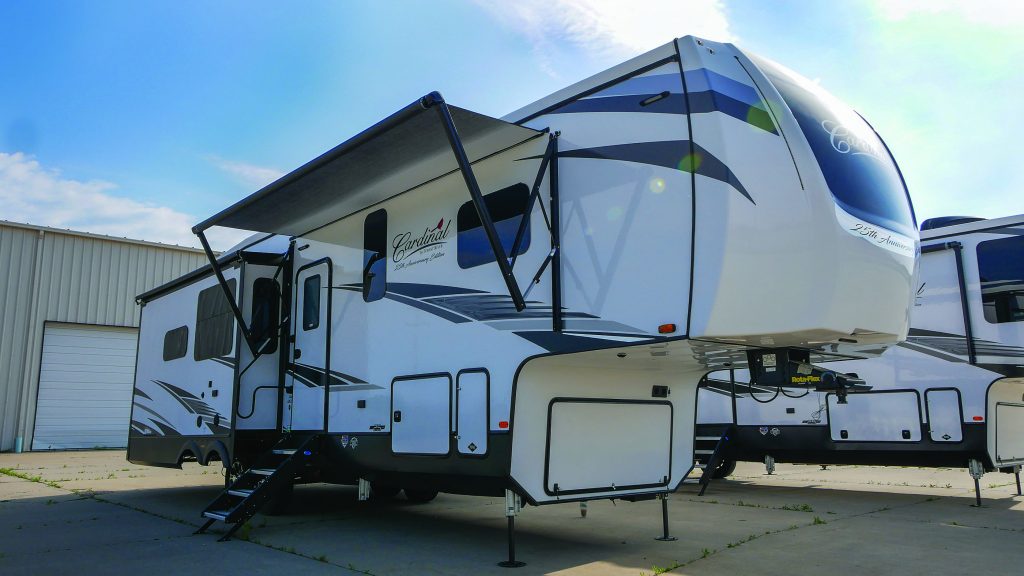 "We've enhanced Luxury and added some features to the Limited while keeping the price point between $40,000 and $50,000," he says.
Luxury products received upgraded cabinets and countertops and rear fiberglass caps as standard. It now includes a Girard tankless water heater, Road Armor Suspension with wet bolts and an Insignia residential range and four-burner cooktop.
The 390FBX floorplan recently launched, and Terlep says the front bath, rear kitchen floorplan is doing well.
"We took the rear kitchen and reconfigured the front end to a his-and-her bathroom with a vanity for mom to get ready. She can sit down and scoot her chair under the countertop," he says.
"We've had a ton of increase in demand and we've increased production in a responsible manner."
Cherokee Wolf Pack
Cherokee toy haulers will see a new fifth wheel and travel trailer floorplan this year.
The 355Pack14 fifth wheel floorplan features a bath-and- a-half, an island in the kitchen and a 14-foot garage.
"This will be our first triple slide unit," says Product Manager Chris Grathen. "We usually have one or two slides on our fifth wheels. We really had to have the triple slide to make it work and make it functional."
The travel trailer floorplan is in the Gold Series, the 22gold13.
"This is the smallest floorplan in our lineup," Grathen says. "Everything in our Gold Series seemed to be on the bigger side. There is no slide. It has an open concept with a 13-foot garage. This is geared toward the couple that has a motorcycle or golf cart, a smaller toy they want to take with them and tow with an SUV or half-ton-truck."
The Gold Series still has bunks in the back, plus a manual pull-down top bunk.
Cherokee Wolf Pup | Grey Wolf
Cherokee receives an interior redesign utilizing a Thomas Expresso color to warm up traditional gray interiors.
"Gray, you can see, has run its course," says Collin Spickler, product manager. "It's clearly trending out, so we switched over to the dark chocolate interior with soft gold accents on cabinet pulls and updated countertops. We spent a lot of time making everything bigger and sturdier. We use more rugged, yet softer fabrics. Just a lot higher quality."
Countertops are twice as thick as before, and user-friendly touches have been added everywhere, including a bamboo sink cover that doubles as a cutting board. The bamboo material doesn't absorb water as easily as some other woods, which cuts down on bacteria.
"From new sofas to dinettes, to vinyls to countertop colors, there's nothing we didn't touch," Spickler says. "We added to the Black Label line as well. We touched up everything across the board."
A new feature Spickler says he's excited about it is a more robust and sturdier full-glass entrance door; also, back-up cameras are now standard.
"You're driving down the road and have 30 feet behind you while you're trying to switch lanes or back up. People always provide it prepped, but we did the next step and put backup cameras in," he says.
The Wolf Pup 16HE floorplan is a couple's coach featuring a beautiful kitchen, queen bed, dinette, sofa and Murphy bed.
The Grey Wolf 18RR toy hauler was redesigned to give much longer storage capacity for a smaller unit. It was intended to be for smaller toys and smaller tow vehicles but was redesigned to be 10 percent larger than last year's model.
Spickler says the RV maker also worked hard to improve wait time on parts orders, starting with the hiring of Mike Markham, the director of service.
"We've spent time on our back end and improving parts and service. We're getting stuff out so fast now. If a dealer calls in and orders a part it can now go out the same day. We have UPS trucks each day."
Sandpiper | Sierra | Cedar Creek | Riverstone
Sandpiper and Sierra have new floorplans across all segments, including the Luxury Line, C-Class and Destination. The Sierra line also receives a new exterior glass color.
The Luxury line has the 391FLRB which has a raised rear bathroom unit with storage underneath on the outside.
"This was in response to market demand," says Curtis Gunter, national sales manager. "You typically see this type of floorplan in something that has a higher price point. Dealers were asking for it. The market drove us to go in with the front living."
Gunter says he's putting most of his eggs in his C-Class lineup basket this year, with three new floorplans. After huge success following its debut at Open House last year, the RV maker wanted to expand on its lineup.
"It's similar to the Luxury line. Typically, the C-Class has shorter floorplans and less slides. We offer both family-friendly and traditional couple's coaches. It has an electric landing gear instead of hydraulic gears," says Gunter. "We chose to make the C-Class more of an economic line with MSRPs typically in the high $40,000s to low $50,000s."
The 3770FL is the little brother to the 379FLOK. It features a front living room with opposing sofa slides and theater seats, plus a huge front window.
In the Destination series, the company will debut a new front kitchen in the 402FK floorplan. It offers three large windows across the front of the trailer, ample counterspace and an island. It includes theater seats, sofa and dinette.
"This is definitely the layout the customer shopping the Destination trailer has been asking for," says Gunter. "The Destination segment is growing. Whether it's stick-and-tin, laminate, or a move-up like Cedar Creek, that kind of camping is becoming extremely popular. It's convenient to buy one, set it up and leave it for a couple years and just go visit it."
Meanwhile, Cedar Creek gets new front caps for all its fifth wheels and multiple floorplans feature new front windshields. A new graphics package, interior, and cabinet colors give a modern country feel, capitalizing on grays and whites.
"The biggest change for the brand is we're doing away with the sub-brand Silverback and Hathaway. It will just be Cedar Creek on the fifth wheel. The move-up piece from there is the Cedar Creek Champagne. The destination piece is the Cedar Creek Cottage," Gunter says. "It cuts down on confusion. It's a well-built coach, good value for the dollar, it has a lot of loyal customers and a huge Cedar Creek Camping Club that formed on its own."
Some options have been condensed and are now standard. For instance, an optional second air conditioner is now standard, as is six-point Level Up and power fans.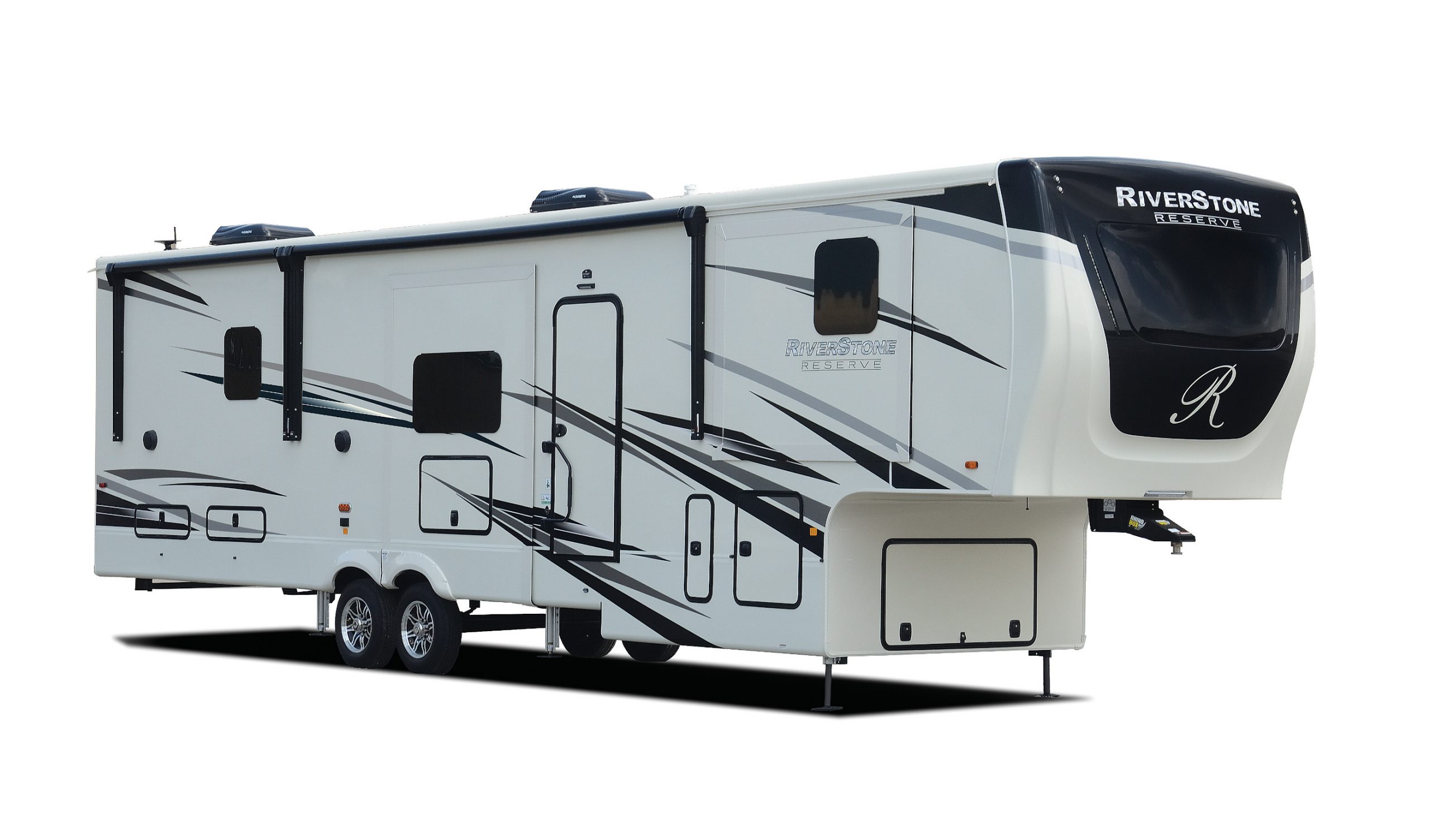 Meanwhile, Gunter says Riverstone experienced tremendous success in what he says is Forest River's pinnacle fifth wheel brand. Following that success, the RV maker has created the Riverstone Reserve, which hits at a slightly lower price point than the Riverstone.
"We want a little bigger piece of the pie in that lower price point," he says. "Our MSRPs are currently in the $120,000 to $130,000 range and the Reserve hits the mid-$90,000s. Our quality on that piece is very high. We don't sacrifice. We still offer 3-inch walls, hardwood styles in cabinetry and trim work. We have four floorplans in that Reserve segment."
The Riverstone Reserve features modern décor with white cabinetry.
To see this collection of previews in RV PRO online, start here.
Previously:
Forest River's Sunseeker | Forester, Dynamax, R-Pod, IBEX and NOBO previews here
Coachmen's Class A's, B's and C's previews here
Coachmen's Spirit | Apex, Clipper | Viking, Catalina, and Fifth Wheels previews here 
Renegade RV and REV RV Group previews here
Lance Camper and Midwest Automotive Designs previews here
Winnebago's Travato, Revel and Solis previews here
Grand Design preview here
Newmar and Winnebago Towables preview here 
inTech RV and Riverside RV previews here
Chinook RV and Gulf Stream Coach previews here 
Roadtrek and Xtreme Outdoors previews here
TAXA Outdoors and the Vanleigh previews here
Alliance RV and Nexus previews here
nuCamp and Leisure Travel Vans previews here