RV News
2021 Preview: Forest River's Sabre, Salem | Wildwood, Surveyor, Shasta and Berkshire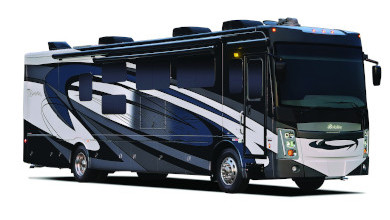 The Berkshire
RV PRO continues its preview of the 2021 model year. For the entire 2021 Model Year Preview special section, see the September issue.
Sabre
Steve Troyer, Sabre sales and product manager, says the new 37FLL floorplan is the newest, latest and greatest front-living floorplan that has everything.
The floorplan has a traditional front living area with huge kitchen and what Troyer says is an industry first in a fifth wheel: A double loft with basement going into the rear bedroom and double loft up top. The living area also has cinema theater seats, opposing tri-fold sofas and blackout shades.
The front living room has panoramic views, overhead storage, a breakfast bar, wrap- around solid-surface countertops and dual overhead windows. The large master bedroom has a modern barn door and is prepped for a washer and dryer.
"We're keeping our price point where the dealer can be profitable under the $50,000 retail price point," says Troyer. "We're providing the most bang for the buck in a full-profile fifth wheel."
The other new floorplan in Sabre is the 37FBT. The front bath-and-a-half floorplan also features a spacious living area with opposing tri-fold sofas and blackout shades. It includes a residential fridge, a farm sink, solid-surface countertops, a pantry and oversize kitchen windows.
The master suite has a storage loft and barn door. The front bath has dual sinks, an oversize shower, washer and dryer prep and wardrobe.
"The front bath-and-a-half has a Jack-and-Jill sink in the front bath," says Troyer. "It's a real attractive front bathroom."
A new list of standards accompanies this year's product changes. Outdoor kitchens will be standard on every floorplan, as will a larger 30-inch microwave, backlit quad entry step, glass entry door, Lino in upper deck, Wi-Fi prep with connectivity, a back-up camera system, a stereo with subwoofer, hand sanitizer station and increased loft clearance.
"The all-glass entry door has a lot of curb appeal," says Troyer.
Salem | Wildwood
Jon Sare, Salem and Wildwood product and sales manager, says this year's lineup is the culmination of feedback and learning to be better.
"We like to set ourselves apart and the only way to do it is not to copy anybody. The best way in my mind to do that is to create unique separators," he says. "One of those big concepts last year was the Versa Lounge."
Last year was the introduction of Stow and Go storage. This year, Salem/Wildwood upped the ante by offering 20.3 cubic feet of Stow and Go storage in dry-food approved stackable storage bins. That's a jump from 12.6 cubic feet, to 20.3 cubic feet.
Another notable change Sare highlights is an enclosed under-belly, called the Accessibelly. The new thermoform panels have screws, which offer easy access for technicians and prevent having to cut, patch and stretch the traditional covered underbelly.
"We went without an enclosed underbelly for a really long time," Sare says. "I'm stubborn. I didn't want to do it the way that was supposedly the right way. Now, with Accessibelly, we have service guys coming up and thanking us for making it so much easier to work on our coach."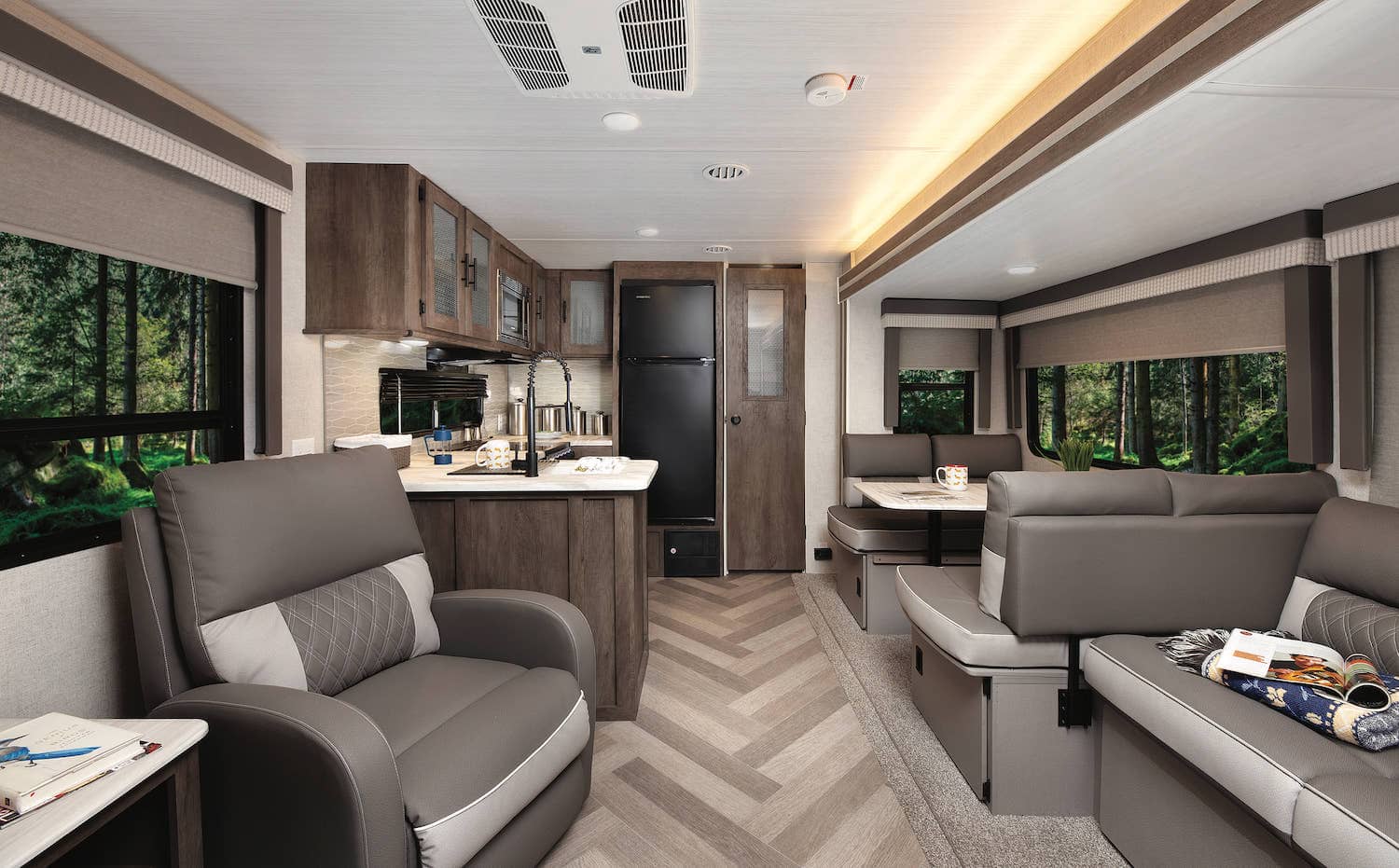 When it comes to the interior, Sare says he had two designers come up with unique details to make furniture and fabrics look more residential. Accent fabric, diamond patterns and unique stitching provide a dialed-in look with attention to detail to impress customers.
Sare says wood trim is one of the most warrantied items on a coach, so the RV maker is replacing wood trim with plastic snap-in pieces to cover up the trim, eliminating staples and putty. Salem | Wildwood also has taken a new approach to the couch and dinette, which can turn into a chaise lounge, going from 68 inches to 96 inches. Even when in the chaise form, there is still a two-person breakfast nook.
Under the coach and each side of the dinette is the stack and-go storage system, as well as newly added additional storage in the bedroom, including a shoe nook and removable bins.
"On all full-length walls, we're using plastic snap-in trim so we can completely eliminate the use of wood trim," says Sare.
Surveyor
Surveyor Product Manager Scott Rhode says this year's Surveyor is the "best-constructed, most turnkey ready to go."
The Surveyor brand is returning to its roots, doing away with the Luxury line and becoming the Grand line again. That makes the Grand Surveyor, Surveyor Legend and Surveyor Legend Sub-Four.
"The Sub-Fours start below 4,000 pounds and are aimed at the Gen Z and younger Millennial demographics – those who haven't towed before," says Rhode. "Legends target the Millennial and Gen X demographics who want bunkhouses."
This year also marks the start of a new branded identity for Surveyor.
"We never had a set logo. We have a new, cool logo. The font and look have all been reimagined. It's an 'S' with compass points and a road that goes through the 'S' because Surveyor will go down any road, anywhere, anytime," says Rhode. "We're using the logo on the bottle opener and fascia. We did it to have our own identity and have Surveyor stand on its own. Too often brands are chasing the hottest and latest and it doesn't turn out well. We know who we are."
Legends and Sub-Fours now have slow-close shower doors, no more curtains, and standardized 15K-BTU air conditioners. MORryde's new platform step has the Surveyor name lasered into the kick plate. The RV maker also has added a slam latch to the door side baggage in the front with motion light inside and a 3/4-inch stab jack drill bit.
Every unit has 15-inch tires, a residential fridge, and an 80-inch solar panel on the roof to accommodate off-grid stays.
"We've added things no one has ever done before," says Rhode. "We developed an exclusive piece of furniture, the TSS: trifold, sofa, sleeper."
The TSS is a home theater seat that becomes a sofa when users remove the center and turns into a trifold bed when it's time to sleep.
"We developed it because sometimes we build a floorplan and one customer wants the theater seat while the next customer wants a bed and then they have to special order," says Rhode. "With the TSS, there's no special order needed. It will be standard in all Grand Surveyors and optional in select Legend floorplans."
Every floorplan in the Surveyor lineup will have some configuration of an outdoor kitchen. Select models will have a griddle, table, sink and refrigerator. All models will have a griddle. The Sub-Fours will have a table with it, a dry sink and a refrigerator.
Grand Surveyor Models now include glass shower doors. When it comes to HVAC, all the floor vents have been removed and are now venting through the cabinets. There was already radiant heat to the basement and there is now an added vent to the basement blowing hot air as well. Grand Surveyors will now have 50-inch TVs and fireplaces standard.
Shasta
After a year of major changes at last year's Open House Expo, Shasta is staying the course for the 2021 product year. "We're going to warm the inside up a little bit with the flooring and other soft items and color schemes," says Meg Grierson, product manager. "We have a couple new floorplans we're excited about." The first floorplan is the 20RB, a small couples' coach that will have a small slide and be 24 feet long. An L-shaped countertop will allow customers to slide a couple of bar stools underneath. A small outside refrigerator rounds out the offerings. The next floorplan, the 24BH, is a small bunkhouse that has bunks going sideways, a different direction than usual, meaning a length of 8 feet bunks east to west.
"It's a little wider to give more space but still keeps the unit shorter," says Grierson.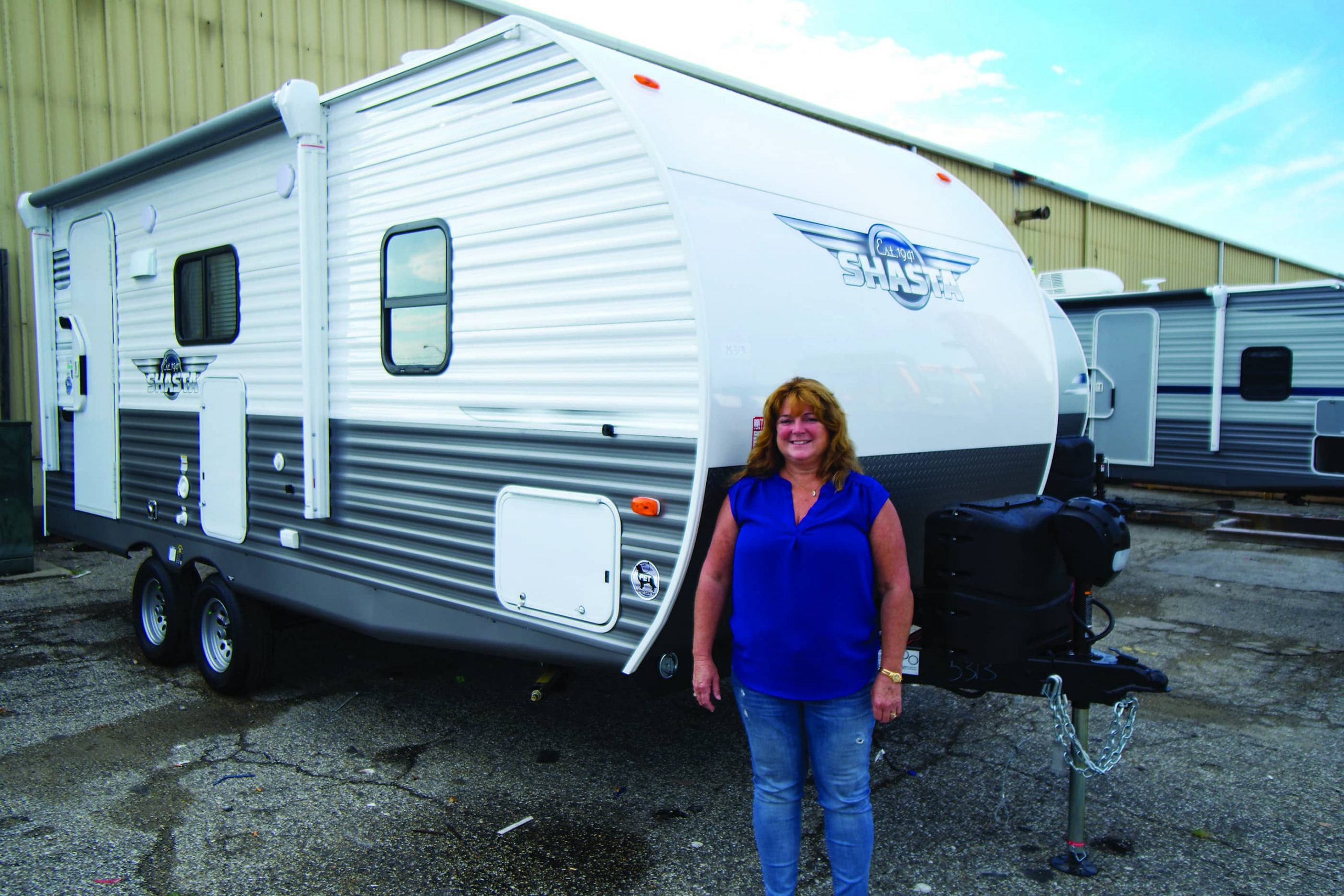 That floorplan will fall in the $20,000 to $25,000 price point range.
"At the first of the year, we went with less options and more standards. At Shasta, we had a lot of options, and with the environment we're in, it's really hard on the plant," says Grierson. "So, we adjusted base prices, took some options away and made them standard, like stab jacks, a spare tire, outside shower, standard ducted air conditioning, large grab handle, bedspread and sink cover. It has helped dealers tremendously."
Berkshire
Berkshire diesel motorhome National Sales Manager Tim Cunningham says Berkshire has undergone a complete overhaul of interior décor for a more modern look, all the while staying true to the company's brand identity.
"We want to remain desirable to our current customers," says Cunningham. "We understand why we fit. We stay true to our customer base."
The new 34B floorplan replaces the 34QS with a full-wall slide under 36 feet. "It's more spacious with a bigger hallway," he says.
Meanwhile, the Berkshire XL receives all new front and rear caps, as well as new exterior paints. The coach is now all-electric, with an Aqua-Hot 250D hot water system, eliminating the need for propane.
"We added six, six-volt house batteries in the 3,000-watt inverter," says Cunningham. "All featuring the most towing capacity at 15,000 pounds for a non-tagged axle diesel."
The Berkshire XL also has a living room heated floor option and convenience package, which comes standard with a 100-watt solar panel and is pre-set for up to a 550-watt solar panel.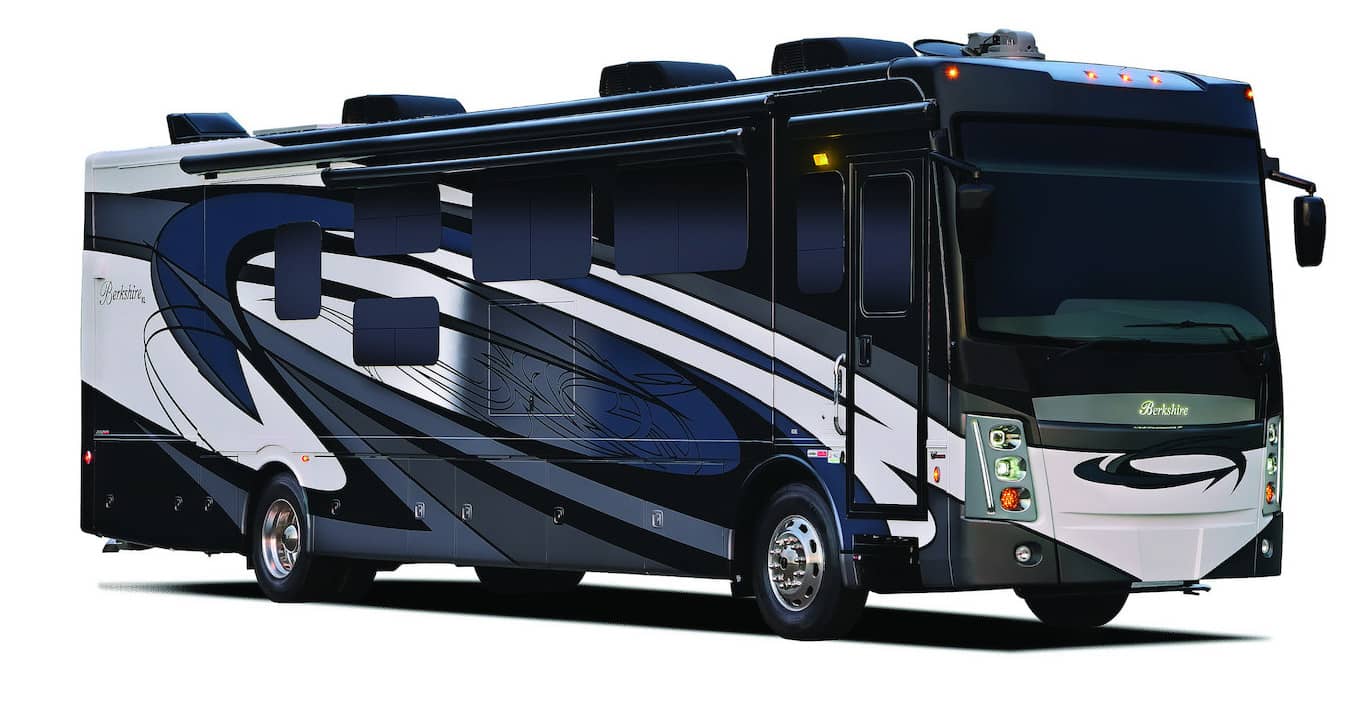 Meanwhile, the Berkshire XLT also has new front and rear caps, new exterior color options and a mobile line collision awareness system now tied into the OptiView dash screen. Also, interiors in the XLT have received a modern refresher, and all XL and XLT products now have TPMS as a standard feature.
To see this collection of previews in RV PRO online, start here.
Previously:
Forest River's Sabre, Salem | Wildwood, Surveyor, Shasta and Berkshire previews here
Forest River's Cardinal | Wildcat, Cherokee Wolf Pack, Cherokee Wolf Pup | Grey Wolf, and Sandpiper | Sierra | Cedar Creek | Riverstone previews here
Forest River's Sunseeker | Forester, Dynamax, R-Pod, IBEX and NOBO previews here
Coachmen's Class A's, B's and C's previews here
Coachmen's Spirit | Apex, Clipper | Viking, Catalina, and Fifth Wheels previews here 
Renegade RV and REV RV Group previews here
Lance Camper and Midwest Automotive Designs previews here
Winnebago's Travato, Revel and Solis previews here
Grand Design preview here
Newmar and Winnebago Towables preview here 
inTech RV and Riverside RV previews here
Chinook RV and Gulf Stream Coach previews here 
Roadtrek and Xtreme Outdoors previews here
TAXA Outdoors and the Vanleigh previews here
Alliance RV and Nexus previews here
nuCamp and Leisure Travel Vans previews here