News
2021 Preview: Forest River's Sunseeker | Forester, Dynamax, IBEX, R-Pod and NOBO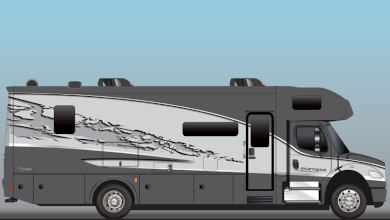 Dynamax revives the Europa name in an all-new Super C.
COVID-19 cancelled this year's Elkhart Open House Week, but RV PRO still wants to give readers a sense of what to expect in the new model year. Be sure to check out RV PRO's entire 2021 Model Year Preview in the September 2020 issue.
Sunseeker | Forester
With a complete overhaul last year, Sunseeker and Forester will stay the course with the changes, including two Vermont Oak wood decors, a lighter contemporary look and a Black Diamond Walnut option.
"This year we're going to do a couple modifications. We're changing our interior cabs from both Ford and Chevrolet to a gray interior, when in years past we had a tan interior. The gray will match the rear of the unit," says Kary Katzenberger, product manager. "We're trying to make the coach flow together and look good together overall. We're tweaking interiors and have some new furniture ideas for both sofas and booth dinette cushions to give it a little more contemporary feel."
Both the Sunseeker and Forester MBS lines are offering an auto-level system and new full-body paint for Forester classic options.
"There are nice changes in terms of power. Mercedes has heated swivel seats and a new 10-inch information radio that has Sirius XM, satellite and 'Hey Mercedes,' like Siri or Google. They've come out with some new safety features as well, including speed sensitive and adaptive cruise control," he says.
The Sunseeker 2400T and Forester 2401T floorplans offer a Murphy bed, large kitchen and rear bath.
"There's lots of storage for a 24-foot unit, open floorplan, lots of open seating and it's available with both the B+ Trekker option or cab-over-mat with queen-size-bed sleeping capacity over the head," says Katzenberger. Those floorplans are available in the MBS line.
A new floorplan will be released first quarter of 2021 in the Ford Transit series, which features an eco-boost engine on the cutaway chassis, giving more power and the ability to add more to transit floorplans than in previous years.
"We're excited about 2021 with the Ford Transits; we think we'll see a huge pickup in demand for that. Everything's trending smaller," Katzenberger says.
Meanwhile, there will be an all-wheel-drive chassis for Ford Transit or four-wheel-drive cutaway.
"The overall engine changes on the Ford have given us the ability to build a bigger and heavier unit because they've increased their GVWRs. It's been very limited in the past. We now have an option against the B van. It's very similar in size to a B van for a lot less money with Ford Transit," he says.
Dynamax
The newest addition to the Dynamax lineup is the all-new Europa series with three to four floorplans.
"Basically, Europa is the name that started it all for Dynamax, so that name is back," says Tony Anagnos, product manager.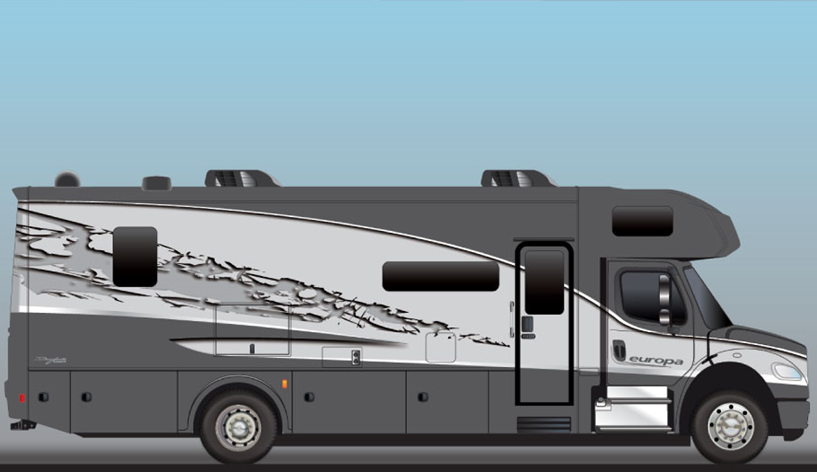 The Europa is built on a Freightliner M2-106 B chassis, with a Cummins 6.7-liter turbo diesel engine, 800 pounds of torque and a 3200 series Allison transmission.
"It answers the consumers' call for a compact Super C," he says. "We keep hearing everyone wants short. We feel it will be one of the shortest floorplans available on a Freightliner chassis. Even though it's short, it will pack a pretty good punch."
The 31SS floorplan features a walk-around king-size bed, a 16-cubic-foot residential fridge, a large 36-inch by 36-inch shower, an optional overhead cab and maximum towing capacity of 12,000 pounds. It also will include an 8,000-kilowatt Onan generator and have a 2,800-watt pure sine wave inverter.
The Super C has a dual-ducted low-profile 15,000-BTU air conditioner, a Winegard Connect 2.0 antenna, a tankless water heater, a combo washer and dryer, and the option to add two, 100-watt solar panels.
The driver and passenger seat will both swivel and have the option for dual-powered theater seating in lieu of a sofa.
"After years of feedback and demand, the Europa is going to deliver the quality and exceptional design one would expect from Dynamax," says Anagnos. "The Europa 31SS is truly different by design. We're excited to introduce this piece."
R-Pod
The new 2021 R-Pod 202 25-foot trailer is the largest unit R-Pod has ever created. It has a brand-new interior look featuring newly designed vinyl furniture with honeycomb accents, flush flooring and Tupelo Honey interior and white interior cabinetry.
The 202 has a double entry walkthrough bathroom located between the living room and bedroom. It has new concrete-look seamless countertops, a 6-cubic-foot refrigerator, two-burner stove and convection oven.
R-Pod gets a new exterior look with two-tone Lamilux fiberglass and a newly designed graphics package with automotive-style exterior digital wrap. All units still include an exclusive central vacuum system and a 28-inch, 12-volt television.
IBEX
IBEX's new floorplan, the 2021 IBEX 20BHS, brings a long list of features to a conventional 8-foot wide trailer. As with every IBEX floorplan, the IBEX comes standard with 15-inch aluminum wheels, which are outfitted with all-terrain tires, an enclosed underbelly and enclosed termination system with heat pads on the fresh, gray, and black water tanks. It also has an upgraded 15,000-BTU air conditioner.
"That means your IBEX travel trailer can reach more places, and can sustain more climate situations," says Product Manager Cody Schade. "Making the IBEX even more capable is the Rhino Rack RVT Tracks found on the roof, which allow our customers to customize the IBEX for any storage needs."
Rhino offers dozens of storage solutions from things like kayak to storage racks that install to the roof of the IBEX. IBEX also offers a 100-watt solar panel and 1,000-watt invertor, allowing off-grid camping enthusiasts the ability to cut the cord and camp in more unconventional places.
Inside the new IBEX is a full walk-around 60-inch by 80-inch residential-sized queen bed with storage underneath. The kitchen features seamless countertops with a deep single-bowl stainless sink and residential faucet, paired with a convection microwave and a three-burner stove top. It also has a pantry and 6-cubic- foot refrigerator.
When it's time to enjoy the great outdoors, the JBL Flip 5, portable Bluetooth speaker and 16-foot power awning provide shade on sunny days. An optional bush kitchen is available with a griddle cooktop and high-pressure spray port.
NOBO
The No-Boundaries 19.6 floorplan has all-new features such as a pet-friendly leash lock, two-tone Lamilux fiberglass and a Shower Miser. The Shower Miser is a water saving feature that cycles cold water back into the fresh tank until the water heats up.
The 19.6 model comes with a 60-inch by 80-inch queen-size bed that flips up and converts into a sofa for extra seating. All floorplans come standard with a 6-cubic-foot refrigerator that can operate off either shore power or propane, and a two-burner stove paired with a convection oven.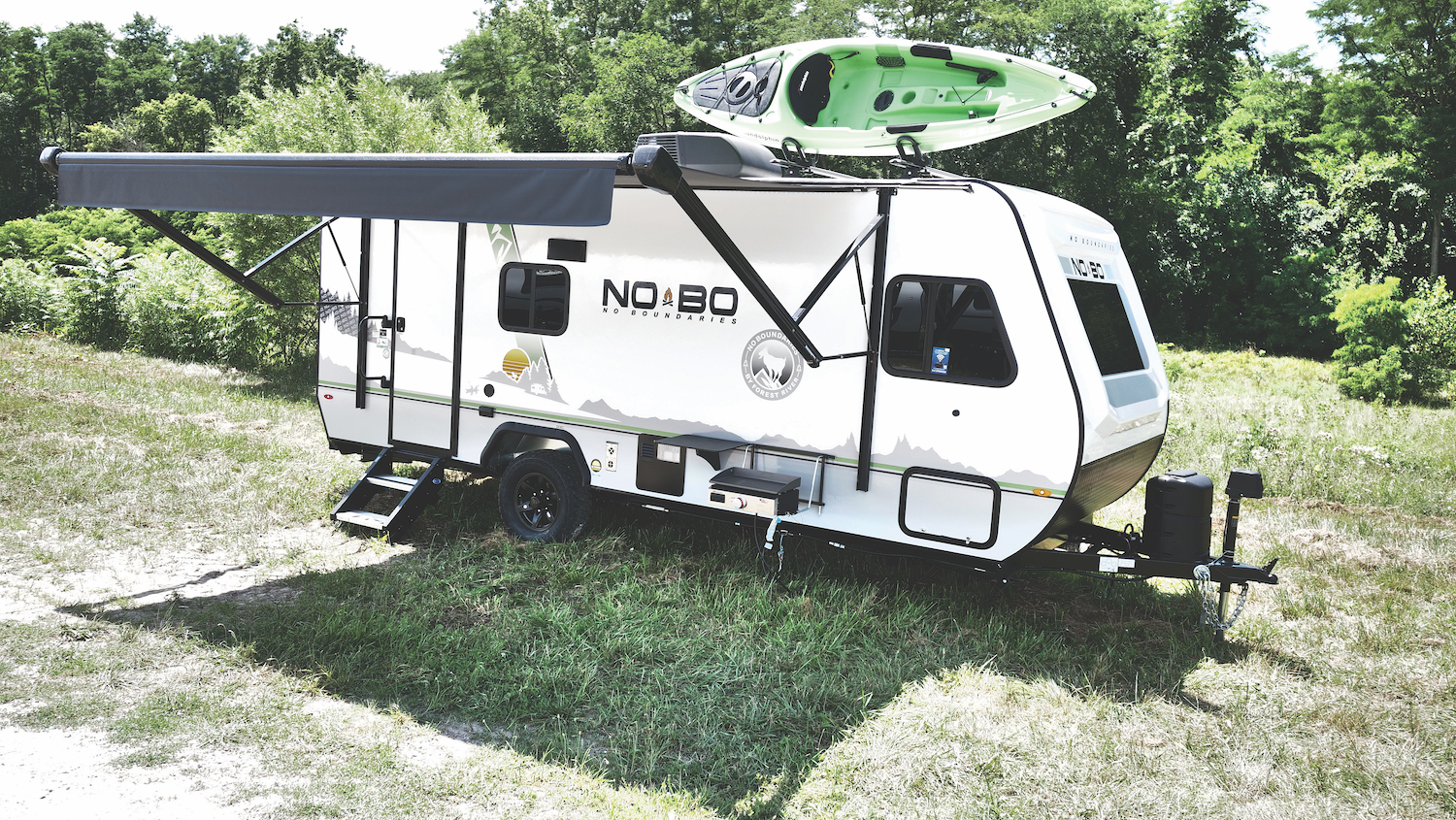 Outside, NOBO gets an all-new exterior graphics package and Bush kitchen with an exterior flat-top griddle, high-pressure spray port and prep station.
The cold-weather package is standard on all models and includes 12-volt tank pad heaters, enclosed gate vales and under-belly and an enclosed termination.
NOBO continues to use PVC roofing membrane and Azdel exterior construction. The composite panel protects against delamination, is lighter than wood and helps absorb sound waves.
To see these Forest River brands previewed in RV PRO online, start here.
Previously:
Coachmen's Class A's, B's and C's previews here
Coachmen's Spirit | Apex, Clipper | Viking, Catalina, and Fifth Wheels previews here 
Renegade RV and REV RV Group previews here
Lance Camper and Midwest Automotive Designs previews here
Winnebago's Travato, Revel and Solis previews here
Grand Design preview here
Newmar and Winnebago Towables preview here 
inTech RV and Riverside RV previews here
Chinook RV and Gulf Stream Coach previews here 
Roadtrek and Xtreme Outdoors previews here
TAXA Outdoors and the Vanleigh previews here
Alliance RV and Nexus previews here
nuCamp and Leisure Travel Vans previews here